Last reviewed:
6 Nov 2023
Last updated:
24 Mar 2023
Summary
Cerumen (ear wax) is a naturally occurring substance that cleans, protects, and lubricates the external auditory canal.
Impaction is diagnosed when an accumulation of cerumen results in symptoms, such as hearing loss, or when it prevents adequate assessment of the ear canal or tympanic membrane.
Intervention may include manual removal, irrigation, or use of cerumenolytic agents, or a combination of these modalities.
After treatment, the clinician should re-examine the patient's ear and document the resolution of the cerumen impaction, and also inspect the previously occluded tympanic membrane.
Young children, older patients, hearing aid users, individuals with a cognitive impairment, and those in nursing homes are at higher risk for cerumen impactions.
Definition
Cerumen is a mixture of secretions and sloughed epithelial cells. A cerumen impaction is an accumulation of cerumen that causes symptoms, such as hearing loss, fullness, otorrhea, tinnitus, dizziness, or other symptoms, and/or prevents a required assessment of the ear canal, tympanic membrane, or audiovestibular system.[1]Schwartz SR, Magit AE, Rosenfeld RM, et al. Clinical practice guideline (update): earwax (cerumen impaction). Otolaryngol Head Neck Surg. 2017 Jan;156(1_suppl):S1-29. https://journals.sagepub.com/doi/abs/10.1177/0194599816671491 http://www.ncbi.nlm.nih.gov/pubmed/28045591?tool=bestpractice.com [Figure caption and citation for the preceding image starts]: Cerumen accumulationReprinted with permission from: Hawke M. Ear disease: a clinical guide. Hamilton, London: Decker DTC, 2003 [Citation ends].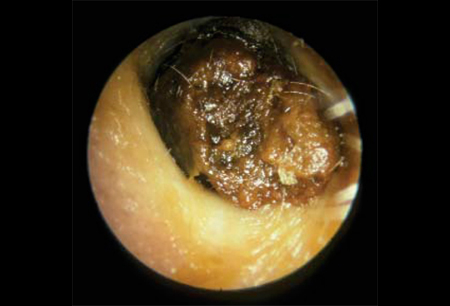 History and exam
Key diagnostic factors
visualization of cerumen
hearing loss
fullness in the ear
More key diagnostic factors
Other diagnostic factors
otorrhea
otalgia
tinnitus
cough
vertigo
Risk factors
age >50 or <5 years
male sex
stenotic ear canal
Down syndrome
cotton-tipped applicator use
hearing aid use
living in a nursing home
Diagnostic investigations
Investigations to consider
More investigations to consider
Treatment algorithm
Contributors
Stephen Wetmore, MD, MBA, FACS

Professor Emeritus

Department of Otolaryngology

West Virginia University School of Medicine

Morgantown

WV

Disclosures

SW declares that he has no competing interests.
Rahul K. Shah, MD, FAAP

Associate Professor of Otolaryngology and Pediatrics

Division of Otolaryngology

Children's National Medical Center

Assistant Professor

Otolaryngology and Pediatrics

George Washington University School of Medicine and Health Sciences

Washington

DC

Disclosures

RKS declares that he has no competing interests.
Seth R. Schwartz, MD, MPH

Director of Research

The Listen For Life Center At Virginia Mason

Otology/Otolaryngology

Department of Otolaryngology

Virginia Mason Medical Center

Seattle

WA

Disclosures

SRS is an author of a reference cited in this topic.
Robin Youngs, MD, FRCS

Consultant Otologist

Gloucestershire Royal Hospital

Gloucester

UK

Disclosures

RY declares that he has no competing interests.
Differentials

External otitis

Keratosis obturans

Polyp of ear canal

More Differentials

Guidelines

Clinical practice guideline (update): earwax (cerumen impaction)

More Guidelines

Patient leaflets

Ear wax

More Patient leaflets

Log in or subscribe to access all of BMJ Best Practice