Last reviewed:
28 Apr 2022
Last updated:
09 Jun 2021
Summary
Chronic atrial fibrillation is a longstanding chaotic and irregular atrial arrhythmia. Prevalence increases progressively with age.
Patients frequently have coexisting cardiac or noncardiac conditions, such as hypertension, coronary artery disease, valvular disease, heart failure, obesity, and sleep apnea or pulmonary disease.
Causes significant morbidity (e.g., palpitations, dyspnea, angina, dizziness or syncope, and features of heart failure, tachycardia-induced cardiomyopathy, or stroke) and death. Many patients are asymptomatic or have symptoms that are less specific for cardiac arrhythmias, such as mild dementia or silent strokes.
ECG shows absent P waves, presence of fibrillatory waves, and irregularly irregular QRS complexes.
Treatment strategy depends on the severity of symptoms, the duration of AF, and the presence of comorbid conditions. Treatment involves correction of the abnormal rate, or rate plus rhythm, along with anticoagulation in high-risk patients.
Risks and benefits of a chosen therapy, such as rate control or rhythm control strategies utilizing beta-blockers, calcium blockers, digoxin, anti-arrhythmic agents, catheter-based or surgical ablation for pulmonary vein isolation and left atrial substrate modification, pacemakers, and ablation of the atrioventricular node need to be weighed based on multiple clinical factors to optimize patient outcome.
Definition
Atrial fibrillation (AF) is a supraventricular tachyarrhythmia. It is characterized by uncoordinated atrial activity on the surface ECG, with fibrillatory waves of varying shapes, amplitudes, and timing associated with an irregularly irregular ventricular response when atrioventricular conduction is intact. [Figure caption and citation for the preceding image starts]: Atrial fibrillation: P waves are not discernible; the ventricular (QRS complexes) rate is irregularly irregularFrom the collection of Dr Arti N. Shah [Citation ends].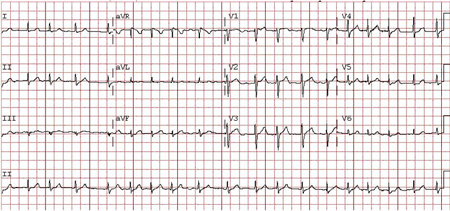 History and exam
Key diagnostic factors
presence of valvular heart disease, coronary artery disease, hypertension, pericarditis, cardiomyopathy, and other arrhythmias
presence of diabetes mellitus, thyroid disease, alcohol abuse, and cancer
palpitations
tachycardia
irregular pulse
More key diagnostic factors
Other diagnostic factors
stroke
shortness of breath
fatigue
chest pain
dizziness
hypotension
elevated jugular venous pressure
murmur or gallop rhythm
rales
decrease in mentation or listlessness
Risk factors
hypertension
coronary artery disease
congestive heart failure
advancing age
diabetes mellitus
rheumatic valvular disease
alcohol abuse
male sex
presence of other arrhythmias
smoking
thyroid disease
autonomic neuronal dysfunction
obesity and obstructive sleep apnea (OSA)
caffeine abuse
cancer
working long hours
excessive exercise
height
Diagnostic investigations
1st investigations to order
ECG
thyroid profile
echocardiogram
serum electrolytes (including serum magnesium) and BUN
More 1st investigations to order
Investigations to consider
serum aminotransferases
prolonged ECG monitoring
More investigations to consider
Treatment algorithm
paroxysmal or persistent AF: hemodynamically unstable
paroxysmal or persistent AF: hemodynamically stable
Contributors
Arti N. Shah, MS, MD

Assistant Professor of Medicine

Mount Sinai School of Medicine

New York

NY

Disclosures

ANS declares that she has no competing interests.
Bharat K. Kantharia, MD, FRCP, FAHA, FACC, FESC, FHRS

President, Cardiovascular and Heart Rhythm Consultants

Clinical Professor of Medicine

Icahn School of Medicine at Mount Sinai

Attending and Consultant Cardiac Electrophysiologist

Mount Sinai and New York Presbyterian Hospitals

New York

NY

Disclosures

BKK declares that he has no competing interests.
Andrew R.J. Mitchell, BM, MD, FRCP, FESC, FACC

Consultant Cardiologist

Jersey General Hospital

St Helier

Jersey

Channel Islands

Disclosures

ARJM declares that he has no competing interests.
Diwakar Jain, MD, FACC, FRCP, FASNC

Professor of Medicine (Cardiology)

Westchester Medical Center

Valhalla

NY

Disclosures

DJ declares that he has no competing interests.
Konstadinos Plestis, MD, FACS

Associate Professor

Department of Cardiothoracic Surgery

Mount Sinai Medical Center

New York

NY

Disclosures

KP declares that he has no competing interests.
Differentials

Atrial flutter with variable atrioventricular (AV) conduction

Multifocal atrial tachycardia

Atrial tachycardia with variable AV conduction

More Differentials

Guidelines

Atrial fibrillation: diagnosis and management

2020 ESC guidelines for the diagnosis and management of atrial fibrillation developed in collaboration with the European Association of Cardio-Thoracic Surgery (EACTS)

More Guidelines

Patient leaflets

Atrial fibrillation

Atrial fibrillation: what treatments work?

More Patient leaflets

Calculators

Atrial Fibrillation CHA(2)DS(2)-VASc Score for Stroke Risk

More Calculators

Videos

How to perform an ECG: animated demonstration

More videos

Log in or subscribe to access all of BMJ Best Practice