Last reviewed:
13 May 2021
Last updated:
11 Apr 2018
Summary
Hypertension, diabetes mellitus, atherosclerosis, and glaucoma are major risk factors for the development of central retinal vein occlusion (CRVO) or branch retinal vein occlusion (BRVO) in older patients.
Hypercoagulability and vasculitis are important risk factors for the development of CRVO or BRVO in younger patients.
Treatment is focused on vision-threatening complications such as macular oedema and neovascularisation.
Several randomised clinical trials support the use of vascular endothelial growth factor (VEGF) inhibitors and intravitreal corticosteroids for the treatment of macular oedema in CRVO and BRVO.
Definition
Retinal vein occlusion (RVO) is an interruption of the normal venous drainage from the retinal tissue. Either the central vein (CRVO) or one of its branches (BRVO) can become occluded. Uncommonly, the occlusion can occur in a vein that drains half of the retina. This is referred to as a hemiretinal vein occlusion (HRVO). Characteristically, in the retina proximal to the occlusion, the affected venous system is tortuous and dilated, and there are several intra-retinal haemorrhages and retinal oedema. RVOs are usually painless, sudden, and unilateral causes of vision loss.
History and exam
presence of risk factors
sudden, painless vision loss
optic nerve head oedema
intra-retinal haemorrhage
venous tortuosity and dilation
collateral vessel formation
age >65 years
neovascularisation
vitreous haemorrhage
macular oedema
floaters
painful, red eye
visual acuity
relative afferent pupillary defect
elevated intra-ocular pressure
atherosclerosis
systemic hypertension
diabetes mellitus
hyperlipidaemia
history of smoking
cardiovascular disease
glaucoma
increased body mass index at 20 years of age
increased serum alpha-2 globulin
short axial length
activated protein C resistance
factor V Leiden
hypercoagulable state
protein S deficiency
antithrombin III deficiency
hyperhomocysteinaemia
vasculitis
age >65 years
Diagnostic investigations
fluorescein angiogram for confirmation of diagnosis
fluorescein angiogram for assessment of complications
optical coherence tomography
electroretinography
Treatment algorithm
Contributors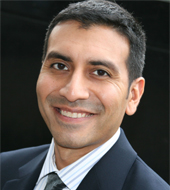 Vitreoretinal Surgeon
The Retina Group of Washington
Silver Spring
MD
Disclosures
AAK declares that he has no competing interests.
Dr Aziz A. Khanifar would like to gratefully acknowledge Dr Sharon Fekrat, a previous contributor to this monograph. SF declares that she has no competing interests.
Assistant Professor of Clinical Ophthalmology
Bascom Palmer Eye Institute
University of Miami Miller School of Medicine
Naples
FL
Disclosures
SGS has received research funding from Alcon, Genentech, and Novartis; holds equity in Pfizer; and is co-holder of a patent pending entitled "Molecular targets for modulating intraocular pressure and differentiation of steroid responders from non-responders".
Professor of Ophthalmology
Bascom Palmer Eye Institute
University of Miami Miller School of Medicine
Naples
FL
Disclosures
TM declares that he has no competing interests.
Specialist Registrar
Moorfields Eye Hospital
Visiting Lecturer
City University
London
UK
Disclosures
AS has received research funding from Allergan.