Last reviewed:
7 Nov 2021
Last updated:
03 Nov 2020
Summary
Typically results from a deletion in chromosome 22, which disrupts the development of the pharyngeal arches and pouches, and may also cause neurological, immunological, endocrinological, or cognitive deficits.
Classic presentation is a triad of cardiac anomalies, hypoplastic thymus, and hypocalcaemia, but clinical manifestations are highly variable, ranging from mild learning disabilities to the complete spectrum of congenital malformations. This phenotypic variability occurs despite a highly consistent genetic lesion.
Presenting signs and symptoms depend on age at diagnosis and the organ system affected. Knowledge of the particular characteristics for a given age helps guide follow-up and management.
Treatment modalities depend on clinical manifestations present in the individual patient. Management is symptomatic and generally follows typical practice for patients without the syndrome, for any given feature.
Definition
The classical presentation is a triad of cardiac anomalies, hypoplastic thymus, and hypocalcaemia (resulting from parathyroid hypoplasia). 22q deletion syndrome (22qDS), described as DiGeorge syndrome or velocardiofacial syndrome, is the set of characteristic morphological and neurological features that result from the deletion of 1 copy of 22q11.2. The deletion causes a reduction in TBX1, a key transcription factor for development of the pharyngeal arches. This developmental disruption may cause cardiac anomalies, immunological abnormalities, cleft lip and palate, hypoparathyroidism, learning disabilities, and schizophrenia. The disorder is notable for marked variation in the penetrance of the various features. The syndrome has been known by multiple other names, including CATCH22 and Shprintzen's syndromes. The complexity of the nomenclature is due to great variability in the clinical syndrome.
The phenotype of DiGeorge syndrome may be divided into 2 components. The first, pharyngeal component consists of congenital heart disease, hypoplasia of the parathyroid glands, thymic hypoplasia with T-cell immunodeficiency, cleft lip and palate, and mild dysmorphic facial features. The second, neurological phenotype consists of mild cognitive dysfunction, which typically presents as learning disabilities, speech impairment, and an increased incidence of schizophrenia.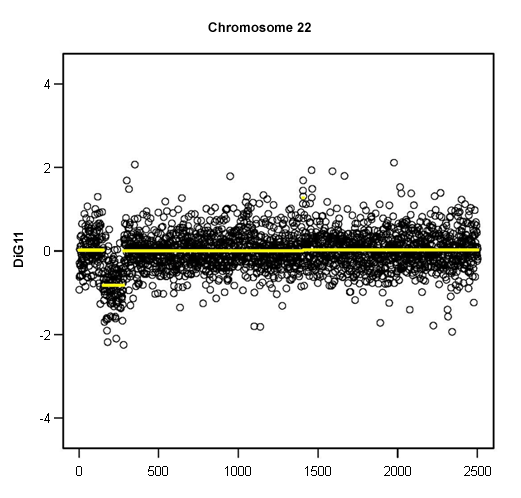 [Figure caption and citation for the preceding image starts]: Loss of 1 copy of 22q11.2, demonstrated by microarray copy number analysisFrom the collections of Sean A. McGhee, MD and Maria Garcia Lloret, MD [Citation ends].
History and exam
presence of risk factors
cyanosis
signs of heart failure
heart murmur
characteristic facial features
cleft lip and palate
growth failure
seizure or tetany
presentation in infancy
feeding difficulty
speech delay
non-verbal learning disorder
frequent infections
schizophrenia
features of CHARGE syndrome
parent with DiGeorge syndrome
Diagnostic investigations
serum calcium
serum intact PTH
T-cell count
fluorescence in situ hybridisation
immune-specific titres (if previously immunised)
FBC
TSH
chest x-ray
ECG
serum immunoglobulins
lymphocyte mitogen and antigen proliferation
karyotype
echocardiogram
renal ultrasound
audiometry
dental and palatal evaluations
ophthalmology evaluation
microarray copy number analysis
mean platelet volume
Treatment algorithm
Contributors
Sean A. McGhee, MD

Clinical Associate Professor

Stanford University

Stanford

CA

Disclosures

SAMG has provided testimony as an expert in a criminal case in which immune deficiency was a concern. SAMG is a co-author of a reference cited in this topic.
Maria Garcia Lloret, MD

Assistant Professor

David Geffen School of Medicine at UCLA

Los Angeles

CA

Disclosures

MGL is a co-author of a reference cited in this topic.
Gabriela M. Repetto, MD

Director

Centro de Genetica Humana

Facultad de Medicina

Clínica Alemana-Universidad del Desarrollo

Santiago

Chile

Disclosures

GMR is a co-author of a reference cited in this topic.
Lisa Kobrynski, MD, MPH

Associate Professor of Pediatrics

Division of Pulmonary, Allergy & Immunology, Cystic Fibrosis, and Sleep

Emory University

Atlanta

GA

Disclosures

LK is an investigator in clinical trials by Baxter Bioscience. These trials do not involve patients with 22q11DS. LK is an author of a number of references cited in this topic.
Winnie Ip, BHB, MBChB, FRACP, MD(Res)

Consultant Immunologist

Department of Immunology

Great Ormond Street Hospital

London

UK

Disclosures

WI declares that she has no competing interests.