Last reviewed:
3 Jan 2023
Last updated:
20 Oct 2022
Summary
Gynaecomastia is the proliferation of benign male glandular breast tissue. It may be unilateral or bilateral, painful, or asymptomatic.
Gynaecomastia results from relative oestrogen excess or relative testosterone deficiency resulting in a high oestrogen-to-testosterone ratio.
Physiological gynaecomastia occurs in the newborn period, during puberty, and with ageing and obesity.
Many drugs, environmental exposures, illnesses, and some genetic conditions increase the risk for gynaecomastia. Treatment may improve gynaecomastia, especially if it is of recent onset.
Most cases require no specific treatment. Therapies for persistent pain or embarrassment include anti-oestrogen therapy, androgen replacement if proven testosterone deficiency, or surgery (liposuction or mammoplasty).
Definition
Gynaecomastia is the benign enlargement of the male breast with firm tissue extending concentrically beyond the nipple. Histologically, gynaecomastia is the benign proliferation of breast ducts and duct epithelial hyperplasia accompanied by varying amounts of inflammation, oedema, stroma, and fibrosis. Male breast enlargement entirely due to adipose tissue is called pseudo-gynaecomastia.[Figure caption and citation for the preceding image starts]: Histology: gynaecomastia; clusters of ducts, halos of oedema, fibrous background; 5X magnificationFrom the collection of Catherine B. Niewoehner, MD [Citation ends].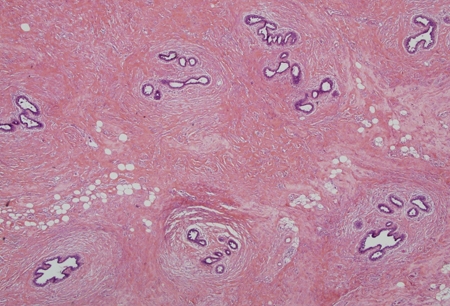 History and exam
Key diagnostic factors
presence of risk factors
palpable breast tissue
newborn age
pubertal age
older adult age
accidental medication exposure in children
chemical substance abuse
acne in adult males
obesity
breast pain
small or soft testicles
More key diagnostic factors
Other diagnostic factors
erectile dysfunction or decreased libido
nutritional supplements
past history of abnormal sexual differentiation
delayed secondary sex characteristics
precocious puberty
weight loss and malnutrition
signs or symptoms of hypothalamic or pituitary disease
signs or symptoms of liver failure (e.g., jaundice, ascites, spiders)
signs or symptoms of hyperthyroidism (e.g., heat intolerance, weight loss, goitre)
decreased body hair
painless or enlarging testicular mass
diminished strength or muscle atrophy
Risk factors
anabolic steroid usage
occupational exposure to embalming fluid or oral contraceptives
contact with environmental phyto-oestrogens or phthalates
prostate cancer
gender identity disorder
hyperthyroidism
renal failure
cirrhosis
drugs that reduce testosterone synthesis
drugs that impair testosterone action
drugs that increase oestrogen levels or stimulate oestrogen receptors
drugs with complex or unknown mechanisms
Diagnostic investigations
1st investigations to order
serum TSH
serum creatinine
serum LFTs
More 1st investigations to order
Investigations to consider
serum total testosterone
serum LH
serum estradiol
serum sex hormone binding globulin (SHBG)
serum free testosterone
serum beta hCG
serum dehydroepiandrosterone sulphate (DHEAS)
serum prolactin
mammogram
breast ultrasound
core biopsy of breast (if cancer suspected)
Testicular ultrasound
More investigations to consider
Treatment algorithm
pubertal idiopathic gynaecomastia
infantile and pre-pubertal gynaecomastia
Contributors
Catherine B. Niewoehner, MD

Professor of Medicine

University of Minnesota

Minneapolis

MN

Disclosures

CBN is an author of a number of references cited in this topic.
Dennis Styne, MD

Professor of Pediatrics

Rumsey Chair of Pediatric Endocrinology

University of California

Sacramento

CA

Disclosures

DS declares that he has no competing interests.
Harold Carlson, MD

Professor of Medicine and Head of Endocrinology

Stony Brook University

Stony Brook

NY

Disclosures

HC is an author of a reference cited in this topic.
Glenn Braunstein, MD

Professor and Chairman

Department of Medicine

Cedars-Sinai Medical Center

Los Angeles

CA

Disclosures

GB declares that he has no competing interests.
Differentials

Breast cancer

Benign breast masses

Pseudo-gynaecomastia

More Differentials

Guidelines

ACR Appropriateness Criteria: Evaluation of nipple discharge

Sexual and reproductive health

More Guidelines

Patient leaflets

Obesity - drugs and surgery

More Patient leaflets

Log in or subscribe to access all of BMJ Best Practice