Last reviewed:
22 Apr 2022
Last updated:
21 Jan 2020
Summary
Associated with substantial morbidity in developed countries. Continues to be a cause of significant mortality in developing countries.
Presents with vomiting and diarrhoea (with or without fever, nausea, or abdominal pain).
Dehydration, which may be associated with electrolyte imbalance and metabolic acidosis, is the most frequent and dangerous complication.
Oral rehydration therapy is the mainstay of treatment.
Self-limiting disease with excellent prognosis if correctly treated.
Definition
Viral gastroenteritis is an infection of the gastrointestinal tract by a virus, usually rotavirus. It is usually self-limiting, but if untreated may result in morbidity and mortality secondary to dehydration, electrolyte imbalance, and metabolic acidosis.[Figure caption and citation for the preceding image starts]: Transmission electron micrograph of intact rotavirus particles, double-shelled. Distinctive rim of radiating capsomeresCDC/Dr Erskine Palmer; used with permission [Citation ends].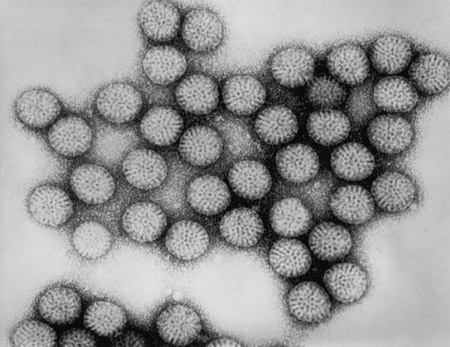 History and exam
Key diagnostic factors
presence of risk factors
vomiting
non-bloody diarrhoea
hyperactive bowel sounds
More key diagnostic factors
Other diagnostic factors
abdominal pain
low-grade fever
evidence of dehydration
decreased body weight
non-distended abdomen
abdominal tenderness
mucus in stool
Risk factors
age <5 years
poor personal hygiene
exposure to people with gastroenteritis
day-care attendance
winter months
poverty
lack of immunisation against rotavirus
lack of breastfeeding
immunodeficiency
Diagnostic investigations
1st investigations to order
More 1st investigations to order
Investigations to consider
serum electrolytes, urea, creatinine
FBC
stool microscopy
stool culture
enzyme immunoassay (EIA) for detection of viral antigen
stool electron microscopy
More investigations to consider
Treatment algorithm
moderate dehydration (5% to 10%)
severe dehydration (>10%)
Contributors
Alexander K.C. Leung, MB BS, FRCPC, FRCP, FRCPCH, FAAP

Clinical Professor of Pediatrics

The University of Calgary

Calgary

Alberta

Canada

Disclosures

AKCL is an author of a guideline and a number of references cited in this topic.
Saul Greenberg, MD

Associate Professor

Department of Paediatrics

University of Toronto

Ontario

Canada

Disclosures

SG declares that he has no competing interests.
Y.L. Lau, MBCBhB, MD, FRCP, FRCPCH, FRCPS, FHKAM, FHKCPaed

Professor

Faculty of Medicine

University of Hong Kong

Hong Kong

Disclosures

YLL declares that he has no competing interests.
Differentials

Bacterial gastroenteritis

Protozoal gastroenteritis

Food poisoning

More Differentials

Guidelines

Fever in under 5s: assessment and initial management

Recommended child and adolescent immunization schedule for ages 18 years or younger, United States, 2019

More Guidelines

Patient leaflets

Diarrhoea in children

Rotavirus vaccine

More Patient leaflets

Log in or subscribe to access all of BMJ Best Practice