Last reviewed:
25 Sep 2021
Last updated:
05 Feb 2019
Summary
Osteosarcoma is the most common non-haematological primary malignant neoplasm of bone in children and adolescents.
Pain and swelling are the most common presenting symptoms.
Although it can occur at any age, it usually affects patients in the second and third decade of life with a peak incidence between 13 and 16 years of age. It is more common in males than females.
Chemotherapy combined with surgery is the standard of care.
Prognosis of patients with localised disease has improved substantially following the introduction of chemotherapy, with 75% to 80% 5-year survival rates.
Definition
The World Health Organization defines osteosarcoma as a primary osseous malignant neoplasm composed of mesenchymal cells producing osteoid and immature bone, even if only in small amounts.[1]Fletcher CDM, Bridge JA, Hogendoorn P, et al. WHO classification of tumours, volume 5. Lyon, France: IARD Press; 2013.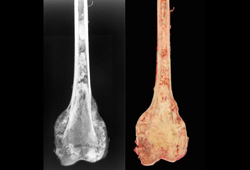 [Figure caption and citation for the preceding image starts]: Osteoblastic osteosarcoma of the distal femur (radiograph and photograph of the gross specimen)Personal collections of Dr Michael J. Klein and Dr Luminita Rezeanu [Citation ends].
History and exam
childhood and adolescence
worsening pain over weeks to months
mass/swelling
male sex
limp
history of trauma
limited range of motion
overlying skin ulceration
childhood and adolescence
Paget's disease
radiotherapy
Rothmund-Thomson syndrome
familial retinoblastoma syndrome
Li-Fraumeni syndrome
fibrous dysplasia
chemotherapy
male sex
Diagnostic investigations
conventional radiographs
serum alkaline phosphatase
serum lactate dehydrogenase
CT primary tumour
MRI primary tumour
CT thorax
radionuclide bone scan
18F-fluorodeoxyglucose positron emission tomography-computed tomography (18F-FDG-PET-CT)
bone biopsy
Treatment algorithm
Contributors
David Loeb, MD, PhD

Chief

Division of Pediatric Hematology, Oncology, and Marrow & Blood Cell Transplantation

Children's Hospital at Montefiore

Associate Professor, Pediatrics

Associate Professor, Developmental and Molecular Biology

Albert Einstein College of Medicine

Bronx

NY

Disclosures

DL declares that he has no competing interests.
Acknowledgements

Dr David Loeb would like to gratefully acknowledge Dr Luminita Rezeanu and Dr Michael J. Klein, the previous contributors to this topic. LR and MJK declare that they have no competing interests.
Edward Sauter, MD, PhD

Professor of Surgery

Ellis Fischel Cancer Center

University of Missouri

Columbia

MO

Disclosures

ES declares that he has no competing interests.
Rachael Windsor, BSc, MBBS, MSc, MRCPCH

Locum Consultant Paediatric Oncologist

University College Hospital

London

UK

Disclosures

RW declares that she has no competing interests.