Summary
Peripheral oedema is the presence of excess interstitial fluid in the tissue of the extremities, which causes palpable swelling.[1]Schroth BE. Evaluation and management of peripheral edema. JAAPA. 2005 Nov;18(11):29-34. http://www.ncbi.nlm.nih.gov/pubmed/16315498?tool=bestpractice.com Oedema develops when microvascular filtration, and therefore interstitial fluid production, exceeds lymph drainage for a sustained period. This could be because the microvascular filtration rate is high, lymph flow is low, or both.[2]Mortimer PS, Rockson SG. New developments in clinical aspects of lymphatic disease. J Clin Invest. 2014 Mar;124(3):915-21. https://www.jci.org/articles/view/71608 http://www.ncbi.nlm.nih.gov/pubmed/24590276?tool=bestpractice.com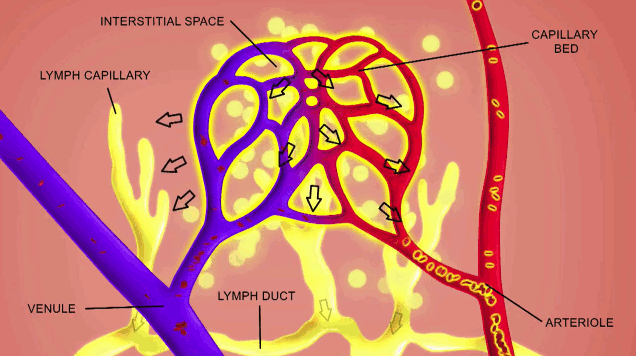 [Figure caption and citation for the preceding image starts]: Development of oedema: an imbalance between the filtration of fluid from the bloodstream and drainage via the lymph systemCreated by BMJ Knowledge Centre [Citation ends].
The body has a number of homeostatic mechanisms that serve to maintain interstitial fluid balance, and these must be overwhelmed before fluid build-up becomes evident as peripheral oedema. Clues generated by the history, physical examination, and targeted evaluation help to identify the factors affecting lymphatic drainage and microvascular filtration. In many patients, multiple factors contribute to the development of peripheral oedema.
Peripheral oedema is called lymphoedema when it is predominantly caused by inadequate lymphatic drainage.
Differentials
Heart failure with reduced ejection fraction (HFrEF)
Heart failure with preserved ejection fraction (HFpEF)
Cor pulmonale
Deep vein thrombosis
Chronic venous insufficiency
Nephrotic syndrome
Cirrhosis
Pregnancy
Premenstrual oedema
Pericardial effusion
Constrictive pericarditis
Restrictive cardiomyopathy
Tricuspid regurgitation
Sleep apnoea
Non-thrombotic venous outflow obstruction/May-Thurner syndrome
Hepatic venous outflow obstruction (includes Budd-Chiari syndrome, portal vein thrombosis, and hepatic veno-occlusive disease)
Renal failure
Protein-losing enteropathy
Angio-oedema
Sepsis
Compartment syndrome
Primary lymphoedema
Secondary lymphoedema
Idiopathic
Severe malnutrition
Hypothyroidism/myxoedema
Medicine-induced oedema
Ruptured Baker's cyst
Pelvic tumour causing external pressure on pelvic veins
Contributors
Associate Professor, College of Nursing
University of Colorado Anschutz Medical Campus
Denver
CO
Disclosures
LDR declares that she has no competing interests.
Professor of Medicine
Division of Hospital Medicine
Department of Internal Medicine
University of Colorado
Denver
CO
Disclosures
EC declares that he has no competing interests.
Associate Professor
Department of Cardiology
University of Texas MD Anderson Cancer Center
Houston
TX
Disclosures
SWY declares that he has no competing interests.
Basic Physician Trainee RACP
Logan Hospital
Meadowbrook
Queensland
Australia
Disclosures
PR declares that he has no competing interests.