Last reviewed:
6 Nov 2021
Last updated:
02 Feb 2018
Summary
The inherited congenital ichthyoses are a heterogeneous group of disorders marked by the common finding of scaly skin. Clinically they are characterised by a wide range of severity, from isolated skin involvement to multi-organ disease.
Acquired ichthyosis develops later in life and can be associated with multiple underlying conditions or medications.
The work-up, diagnosis, and treatment vary based on the type of ichthyosis that is suspected by the treating physician.
Definition
Ichthyosis is a descriptive term for dry, scaly skin that in some cases may resemble the scales on a fish (ichthys is the Greek root for fish). The inherited ichthyoses are a group of diseases that feature scaling skin as part of their clinical presentation. The underlying defect, mode of inheritance, character, and extent of scaling differ among the various types. Because of these differences, work-up and treatment varies depending on the clinical presentation. Ichthyosis can also be acquired as a result of underlying diseases or use of certain medications.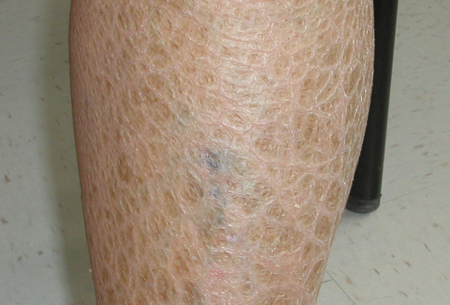 [Figure caption and citation for the preceding image starts]: Thick, plate-like scaling of the lower extremity of a patient with ichthyosis vulgarisFrom the collection of Dr Timothy Patton; used with permission [Citation ends].
History and exam
scaling
skin changes at birth (in congenital ichthyosis)
onset in infancy (in ichthyosis vulgaris and X-linked ichthyosis)
adult onset (in acquired ichthyosis)
male sex
FHx of ichthyosis
hx of atopy
hx of lymphoma, diabetes, systemic lupus erythematosus
use of clofazimine, lipid-lowering agents, or butyrophenone
alopecia and ectropion in lamellar ichthyosis
cryptorchidism and corneal opacities
deafness, mental retardation, limb defects, epilepsy, short stature
positive family history
parental consanguinity
use of clofazimine, lipid-lowering agents, or butyrophenone
history of lymphoma, diabetes, systemic lupus erythematosus
Diagnostic investigations
skin biopsy
serum cholesterol sulfate
lipoprotein electrophoresis
steroid sulfatase activity
serum phytanic acid
genetic testing
CT scan
serum glucose
ANA
Treatment algorithm
Contributors
Brittany Craiglow, MD

Assistant Professor of Dermatology and Pediatrics

Yale University

New Haven

CT

Disclosures

BC declares that she is a member of the Foundation for Ichthyosis and Related Skin Types Advisory Board. BC is an author of a reference cited in this monograph​.
Acknowledgements

Dr Brittany Craiglow would like to gratefully acknowledge Dr Timothy Patton, a previous contributor to this monograph. TP declares that he has no competing interests.
David Cassarino, MD, PhD

Assistant Professor

Department of Pathology and Laboratory Medicine

University of California

Los Angeles

CA

Disclosures

DC declares that he has no competing interests.
Thierry Simonart, MD, PhD

Physician

Department of Dermatology

Erasme University Hospital

Brussels

Belgium

Disclosures

TS declares that he has no competing interests.