Last reviewed:
24 Feb 2023
Last updated:
29 Nov 2022
Summary
Urethritis classically presents as acute urethral discharge following unprotected sex.
The two most important aetiological agents are Neisseria gonorrhoeae and Chlamydia trachomatis.
Increased risk is associated with new sex partner, multiple sex partners, or age under 25 years. Disease may be transmitted to infants from infected mothers, resulting in conjunctivitis, iritis, otitis media, or pneumonia.
Higher morbidity in untreated women (10% to 40%) than in men (1% to 2%).
Antibiotic therapy is the mainstay of treatment.
Untreated gonococcal urethritis may disseminate, causing arthritis, meningitis, and endocarditis. Untreated non-gonococcal urethritis may present with complications such as reactive arthritis or infertility.
Definition
Urethritis is usually a sexually transmitted disease that typically presents with dysuria, urethral discharge, and/or pruritus at the end of the urethra. Urethral discharge is the classic physical finding. If the urinalysis is positive for leukocyte esterase, the Gram stain of the discharge (≥2 white blood cells per oil immersion field) or sediment of the first-voided urine (≥10 white blood cells per high power field) reveals abnormal numbers of polymorphonuclear leukocytes, the diagnosis of urethritis is confirmed.[1]Workowski KA, Bachmann LH, Chan PA, et al. Sexually transmitted infections treatment guidelines, 2021. MMWR Recomm Rep. 2021 Jul 23;70(4):1-187. https://www.doi.org/10.15585/mmwr.rr7004a1 http://www.ncbi.nlm.nih.gov/pubmed/34292926?tool=bestpractice.com Urethritis is divided into 2 main categories: gonococcal, if Neisseria gonorrhoeae is isolated; non-gonococcal (NGU), if N gonorrhoeae is not isolated. The most common causes of NGU include Chlamydia trachomatis and Mycoplasma genitalium. Urethritis may also result from trauma but this topic focuses on infectious causes.[Figure caption and citation for the preceding image starts]: Gonorrhoea with penile meatal dischargeCDC Image Library / Susan Lindsley [Citation ends].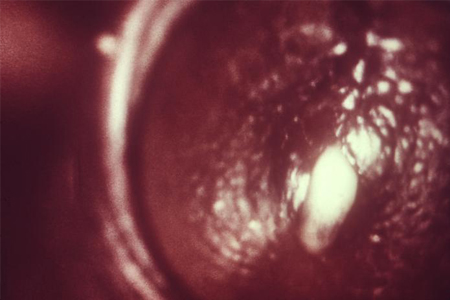 History and exam
Key diagnostic factors
presence of risk factors
urethral discharge
urethral irritation or itching
dysuria
More key diagnostic factors
Other diagnostic factors
orchialgia
absence of epididymal tenderness and/or swelling
absence of pelvic pain (women)
absence of pustular or petechial rash
absence of arthritis
absence of eye inflammation
Risk factors
age 15 to 24 years
female sex
men who have sex with men
low socio-economic status
new or multiple sex partners
prior or current STD
inconsistent condom use
circumcision
Diagnostic investigations
1st investigations to order
Gram stain of urethral discharge and/or urine sediment
nucleic acid amplification tests (NAAT)
culture of urethral discharge
potassium hydroxide prep of urethral discharge
HIV test
syphilis test
More 1st investigations to order
Investigations to consider
urinalysis and culture
wet mount of urethral discharge (women)
NAAT and culture of urine or urethral/vaginal swab for Trichomonas vaginalis
NAAT for other organisms
More investigations to consider
Treatment algorithm
initial Gram stain suggestive of gonorrhoea: non-pregnant
initial Gram stain suggestive of gonorrhoea: pregnant
initial Gram stain not suggestive of gonorrhoea: non-pregnant
initial Gram stain not suggestive of gonorrhoea: pregnant
recurrent or resistant urethritis
Contributors
Sheldon Morris, MD, MPH

Assistant Professor

Division of Infectious Diseases

Department of Medicine

UCSD Antiviral Research Center

Division of Family Medicine

Department of Family and Preventive Medicine

UCSD La Jolla Family and Sports Medicine

San Diego

CA

Disclosures

SM has completed a National Institutes of Health contract for research study on the Visby Medical Sexual Health Test. SM is an author of a number of references cited in this topic.
Acknowledgements

Dr Sheldon Morris would like to gratefully acknowledge Dr Christina Bailey, a previous contributor to this topic.

Disclosures

CB declares that she has no competing interests.
Vani Dandolu, MD, MPH

Associate Professor

Ob/Gyn and Urology

Director

Division of Urogynecology

Associate Residency Program Director

Temple University Hospital

Philadelphia

PA

Disclosures

VD declares that he has no competing interests.
Khalil Ghanem, MD, PhD

Assistant Professor of Medicine

Associate Fellowship Program Director

Division of Infectious Diseases

Johns Hopkins University School of Medicine

Baltimore

MD

Disclosures

KG declares that he has no competing interests.
Christopher Fairley, PhD

Professor of Sexual Health

University of Melbourne

Director

Melbourne Sexual Health Centre

Carlton

Victoria

Australia

Disclosures

CF is an author of a number of references cited in this topic. CF has received programme grants of 6 figures US$.
Differentials

Urinary tract infection

Candida balanitis or vaginitis

Non-infectious urethritis

More Differentials

Guidelines

2021 European guideline on Mycoplasma genitalium infections

Reducing sexually transmitted infections

More Guidelines

Patient leaflets

Gonorrhoea

Chlamydia

More Patient leaflets

Log in or subscribe to access all of BMJ Best Practice