Last reviewed:
16 Apr 2021
Last updated:
18 Nov 2020
Summary
Acute appendicitis is an acute inflammation of the vermiform appendix.
Typically presents as acute abdominal pain starting in the mid-abdomen and later localising to the right lower quadrant.
Associated with fever, anorexia, nausea, vomiting, and elevation of the neutrophil count.
Diagnosis is usually made clinically. If investigation is required, computed tomographic scan or ultrasonography may show inflammation or dilatation of the appendix outer diameter to more than 6 mm.
Definitive treatment is surgical appendicectomy.
Definition
Acute appendicitis is an acute inflammation of the vermiform appendix, most likely due to obstruction of the lumen of the appendix (by faecolith, normal stool, infective agents, or lymphoid hyperplasia).[1]Fitz RH. Perforating inflammation of the vermiform appendix with special reference to its early diagnosis and treatment. Am J Med Sci. 1886;92:321-46.[2]Itskowitz MS, Jones SM. Appendicitis. Emerg Med. 2004;36:10-5.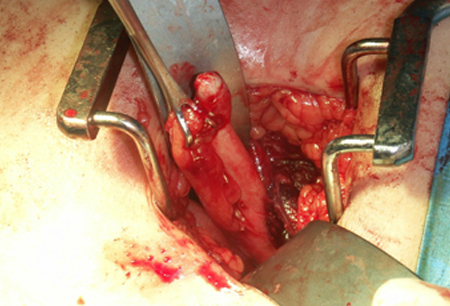 [Figure caption and citation for the preceding image starts]: Acute appendicitis - intraoperative specimenNasim Ahmed, MBBS, FACS; used with permission [Citation ends].
History and exam
abdominal pain
anorexia
nausea and vomiting
right lower quadrant tenderness
'high' or 'intermediate' risk score
tense, rigid abdomen
hypotension and tachycardia
palpable mass
low-grade pyrexia
flushed face and a fetor 
reduced bowel sounds 
loose stool
constipation
flexed right hip (psoas sign) 
low dietary fibre
improved personal hygiene
smoking 
Diagnostic investigations
FBC
CRP
abdominal ultrasound
contrast-enhanced abdominal CT
urinalysis
pregnancy test
group and save
abdominal MRI
Treatment algorithm
Contributors
General and Colorectal Surgeon
Queen's Medical Centre
Nottingham
UK 
Biography
JA is Clinical Lead for General Surgery, Getting It Right First Time.
Disclosures
JA is trustee and council member of the Royal College of Surgeons of England. 
BMJ Best Practice would like to gratefully acknowledge the previous expert contributor, whose work is retained in parts of the content:
Dileep N. Lobo, MS, DM, FRCS, FACS
Professor of Gastrointestinal Surgery
National Institute for Health Research, Nottingham Digestive Diseases Biomedical Research Unit
Nottingham University Hospitals and University of Nottingham, Queen's Medical Centre
Nottingham
UK
DNL declares that he has no competing interests. DNL is an author of an article cited in the topic.
General Surgeon
Royal United Hospitals
Bath NHS Foundation Trust
UK 
Biography
SR is a specialty advisor in emergency general surgery to the Royal College of Surgeons and an honorary senior clinical lecturer and examiner for the University of Bristol medical school.
Disclosures
SR declares that she has no competing interests.