Last reviewed:
21 Sep 2021
Last updated:
13 May 2021
Summary
Basal cell carcinoma (BCC) clinically presents as a pearly white/pink papulo-nodule or firm plaque.
Patient usually has prominent solar damage or a history of considerable ultraviolet (UV) exposure.
Can be locally aggressive, but rarely metastasises.
Diagnosis of a cancer is histologic. Findings are of dermal masses of varying sizes and shapes composed of basophilic cells with large oval rather uniform nuclei and scant cytoplasm. These masses exhibit a peripheral cell layer demonstrating a palisading pattern of nuclei.
Most BCCs are successfully treated with surgery, with low recurrence rates.
Definition
Basal cell carcinoma (BCC) of the skin is a common neoplasm, related to exposure to sunlight.[1]Schwartz RA. Skin Cancer: Recognition and Management. 2nd edn. Blackwell, Oxford, United Kingdom, 2008.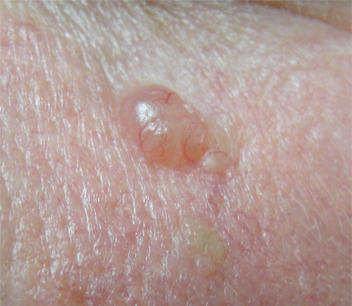 [Figure caption and citation for the preceding image starts]: Nodular basal cell carcinoma on the cheek, on background of diffuse solar damage with marked solar elastosisFrom the collection of Robert A. Schwartz, MD, MPH, FAAD, FRCP (Edin) [Citation ends]. BCC has also been known as basal cell epithelioma, reflecting the fact that this neoplasm infrequently metastasises. It can be locally aggressive, but rarely metastasises. While certain factors can result in higher-grade behaviour, in most cases early detection and treatment have made extensive local invasion and destruction from this neoplasm a thing of the past.[2]Raasch BA, Buettner PG, Garbe C. Basal cell carcinoma: histological classification and body-site distribution. Br J Dermatol. 2006 Aug;155(2):401-7. http://www.ncbi.nlm.nih.gov/pubmed/16882181?tool=bestpractice.com
History and exam
presence of risk factors
papules with associated telangiectasias
plaques, nodules, and tumours with rolled borders
small crusts and non-healing wounds
non-healing scabs
pearly papules and/or plaques
metastases associated with large or neglected BCC
local destruction with advanced lesion
Ultraviolet (UV) radiation
sun exposure
x-ray exposure
arsenic exposure
aberrant Hedgehog signalling pathway
xeroderma pigmentosum
nevoid basal cell carcinoma (Gorlin-Goltz) syndrome
history of non-melanona skin cancer
childhood cancer survivors
transplant patients
Diagnostic investigations
biopsy for dermatohistopathology
in vivo multiphoton microscopy
Treatment algorithm
Contributors
Robert A. Schwartz, MD, MPH, FAAD, FRCP (Edin)

Professor & Head

Dermatology

Rutgers University New Jersey Medical School

Newark

NJ

Honorary Professor

China Medical University

Shenyang

China

Honorary Professor

Sree Balaji Medical College

Bharath University

Chennai

India

Disclosures

RAS declares that he has no competing interests. RAS is an author of a number of references cited in this topic.
Acknowledgements

Professor Robert A. Schwartz would like to gratefully acknowledge Dr James R. DeBloom and Dr Drazen Jukic, the previous contributors to this topic. JRD and DJ declare that they have no competing interests.
Richard Bull, BMBCh

Consultant Dermatologist

Homerton University Hospital NHS Foundation Trust

London

UK

Disclosures

RB declares that he has no competing interests.
David Cassarino, MD, PhD

Assistant Professor

Department of Pathology and Laboratory Medicine

University of California

Los Angeles

CA

Disclosures

DC declares that he has no competing interests.