Last reviewed:
24 Feb 2023
Last updated:
28 Mar 2019
Summary
Asymptomatic pre-malignant disorder associated with relatively low risk (on average 0.5% to 1.0% per year) of progression to multiple myeloma or related plasma cell proliferative malignancies.
No aetiological risk factors have been defined. Male sex, older age, family history of monoclonal gammopathy of undetermined significance, African ancestry, and exposure to radiation or pesticide are associated with a higher prevalence.
There is no indication for specific treatment. Clinical- and laboratory-based follow up is recommended.
Definition
Monoclonal gammopathy of undetermined significance (MGUS) is an asymptomatic disorder associated with an increased risk of developing multiple myeloma and related plasma cell proliferative malignancies. The following criteria must be met for diagnosis: presence of a monoclonal (M) protein in the serum (at a concentration <30 g/L [3 g/dL]) or in urine (<500 mg per 24 hours); <10% plasma cells in the bone marrow (a bone marrow examination is only required if M protein is >15 g/L [1.5 g/dL], or for non-IgG MGUS, or if the free light chain ratio is abnormal); and an absence of lytic bone lesions, anaemia, hypercalcaemia, renal insufficiency, or amyloidosis related to the plasma cell proliferative process.[1]Rajkumar SV, Dimopoulos MA, Palumbo A, et al. International Myeloma Working Group updated criteria for the diagnosis of multiple myeloma. Lancet Oncol. 2014;15:e538-e548. http://www.ncbi.nlm.nih.gov/pubmed/25439696?tool=bestpractice.com
[Figure caption and citation for the preceding image starts]: Haematoxylin-eosin section of bone marrow biopsy showing mild increase in plasma cellsFrom the collection of Ola Landgren, MD, PhD [Citation ends].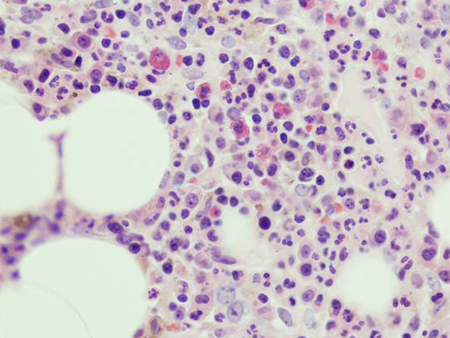 [Figure caption and citation for the preceding image starts]: CD138 immuno-histochemical staining highlighting small clusters of plasma cellsFrom the collection of Ola Landgren, MD, PhD [Citation ends].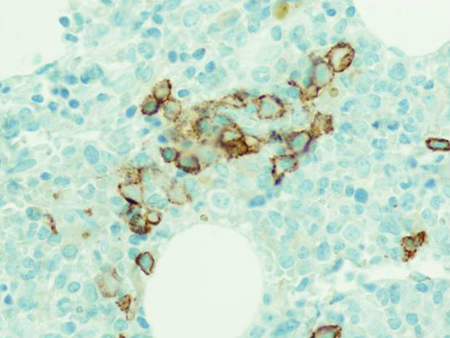 History and exam
Key diagnostic factors
at-risk demographic (male, age >50 years, African ancestry)
clinically asymptomatic
positive family history
history of radiation exposure
history of pesticide exposure
More key diagnostic factors
Other diagnostic factors
history of immunosuppression or infections
presence of peripheral neuropathy
Risk factors
male sex
age >50 years
African ancestry
family history of MGUS or multiple myeloma
immune-mediated conditions
radiation exposure
pesticide exposure
Diagnostic investigations
1st investigations to order
electrophoresis with immunofixation and measurement of serum immunoglobulins
FBC with differential
serum calcium
serum creatinine
urinalysis and 24-hour urine collection with electrophoresis and immunofixation
serum free light chains assay
metastatic bone survey (conventional x-ray or whole body low-dose CT scan)
More 1st investigations to order
Investigations to consider
bone marrow aspiration and/or biopsy
bone mineral density scan
MRI scan
PET scan
More investigations to consider
Treatment algorithm
Contributors
Shaji Kumar, MD

Professor of Medicine

Division of Hematology

Mayo Clinic

Rochester

MN

Disclosures

SK has served as a consultant for Janssen, Abbvie, Amgen, Merck, Celgene, Takeda, and Skyline.
Acknowledgements

Professor Shaji Kumar would like to gratefully acknowledge Dr Ola Landgren, a previous contributor to this topic. OL is an author of several references cited in this topic.
Daniel Catovsky, MD

Consultant Haemato-Oncologist

Section of Haemato-Oncology

Brookes Lawley Institute of Cancer

Sutton

UK

Disclosures

DC declares that he has no competing interests.
Differentials

Multiple myeloma or smoldering myeloma

Amyloidosis

Waldenström's macroglobulinaemia

More Differentials

Guidelines

International Myeloma Working Group updated criteria for the diagnosis of multiple myeloma

The clinical relevance and management of monoclonal gammopathy of undetermined significance and related disorders

More Guidelines

Patient leaflets

Monoclonal gammopathy of undetermined significance

More Patient leaflets

Log in or subscribe to access all of BMJ Best Practice