Last reviewed:
December 2019
Last updated:
December 2018
Summary
Respiratory syncytial virus is the most common cause of bronchiolitis; nearly every child has been infected by 2 years of age.
Seasonal outbreaks occur worldwide during winter months.
Characterised by cough, wheeze, respiratory distress, and hypoxia.
Most episodes are mild and self-limiting.
Treatment is mostly supportive: supplemental oxygen, nasal and pulmonary toilet, respiratory support, nutritional support.
High-risk groups for severe illness include infants with a history of prematurity, chronic lung disease, complex congenital heart disease, and immunocompromise.
Immunoprophylaxis with palivizumab is available for high-risk groups.
Definition
Respiratory syncytial virus (RSV) was historically placed in the Paramyxovirus family. It has been recategorised to the order Mononegavirales as a member of the Pneumoviridae family. It is the most common cause of bronchiolitis. Symptoms include rhinorrhoea, cough, wheeze, respiratory distress, and hypoxaemia.[1]Shay DK, Holman RC, Newman RD, et al. Bronchiolitis-associated hospitalizations among US children, 1980-1996. JAMA. 1999 Oct 20;282(15):1440-6. http://jama.jamanetwork.com/article.aspx?articleid=192009 http://www.ncbi.nlm.nih.gov/pubmed/10535434?tool=bestpractice.com RSV can also cause pneumonia in children and, rarely, in immunocompetent adults.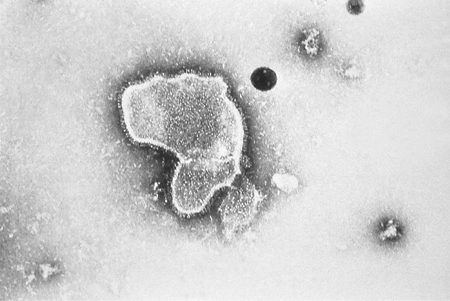 [Figure caption and citation for the preceding image starts]: Electron micrograph revealing the morphological traits of the RSVCDC/Palmer EL; used with permission [Citation ends].
History and exam
presence of risk factors
rhinorrhoea/congestion
tachypnoea
increased work of breathing
cough
wheeze
poor feeding
cyanosis
rales
apnoea
exposure to RSV
complex congenital heart disease
history of prematurity
immunocompromise
chronic lung disease
high-risk infants with no recent immunoprophylaxis against RSV
infants aged <6 months
winter season
older adult age
smoke exposure
family history of asthma
Down's syndrome
Diagnostic investigations
Treatment algorithm
Contributors
Center for Pediatric Infectious Diseases
Cleveland Clinic Children's Hospital
Cleveland
OH
Disclosures
FE declares that he has no competing interests.
The Steven and Nancy Calabrese Endowed Chair for Excellence in Pediatric Care, Research, and Education
Professor & Chair of Pediatrics
Cleveland Clinic Lerner College of Medicine
Case Western Reserve University
Chief
Global Pediatric Research Operations
Cleveland Clinic Foundation
Director
Center for Pediatric Research
Lerner Research Institute
Cleveland
OH
Disclosures
GP declares that he has no competing interests.
Dr Frank Esper and Dr Giovanni Piedimonte would like to gratefully acknowledge Dr Melvin L. Wright, a previous contributor to this topic.
Chief
Pediatric Infectious Disease
Vice Chairman
Department of Pediatrics
Children's Medical Center
Winthrop University Medical Center
Mineola
Professor of Pediatrics
School of Medicine
Stony Brook University Medical Center
Stony Brook
NY
Disclosures
LRK has participated as an investigator in multiple clinical research trials supported by grants from MedImmune. LRK has also served as a consultant to MedImmune on medical advisory boards and is a member of their speakers' bureau.
Professor of Pediatrics
Women and Children's Hospital
Buffalo
NY
Disclosures
RW declares that he has no competing interests.
Consultant Paediatrician
Croydon University Hospital
Croydon
UK
Disclosures
JH declares that she has no competing interests.