Last reviewed:
5 Nov 2022
Last updated:
01 Nov 2022
Summary
Paraesthesias are abnormal sensory symptoms typically characterised as tingling, prickling, pins and needles, or burning sensations. They may be transient or persistent, limited in distribution or generalised, and may involve any portion of the body innervated by sensory or afferent nerve fibres. They may occur in isolation or in association with reduced or absent sensation. The symptoms usually occur spontaneously. Paraesthesias can be caused by a dysfunction or abnormality affecting any level of the somatosensory pathway. However, the most common causes affect peripheral sensory nerves.
The somatosensory pathway
Primary afferent or sensory nerve fibres originate as unmyelinated nerve endings in the epidermis or as myelinated nerve fibres associated with sensory receptor structures in the dermis. They are organised distally as cutaneous branches of peripheral nerves or as the sensory components of mixed sensory and motor peripheral nerves, such as the median nerve in the hand or the tibial nerve in the leg. In the extremities, the peripheral sensory nerves become components of either the brachial plexus for the upper extremities or the lumbosacral plexus for the lower limbs. Proximal to the plexus, sensory nerve fibres remain combined with the motor nerve fibres in the spinal nerve roots, with the sensory nerve fibres projecting centrally to the dorsal root ganglion. The dorsal root ganglia contain the sensory neuronal cell bodies and are found alongside the spinal cord for the neurons innervating the extremities and trunk, or in the cranial nerve nuclei in the brainstem for the cranial nerves. The central process of the dorsal root ganglion neuron extends centrally, via the dorsal root, into the dorsal horn of the spinal cord, or from the cranial nerve sensory nuclei, with central projections through the thalamus and ultimately to the somatosensory cortex.[Figure caption and citation for the preceding image starts]: Ascending sensory pathways of the spinal cord. The dorsal column system and spinothalamic tract are the major ascending pathways that connect the periphery with the brain.Betts JG, Young KA, Wise JA et al.Anatomy and physiology. Houston, TX:OpenStax; 2013 (CC BY4.0 - https://creativecommons.org/licenses/by/4.0/) [Citation ends].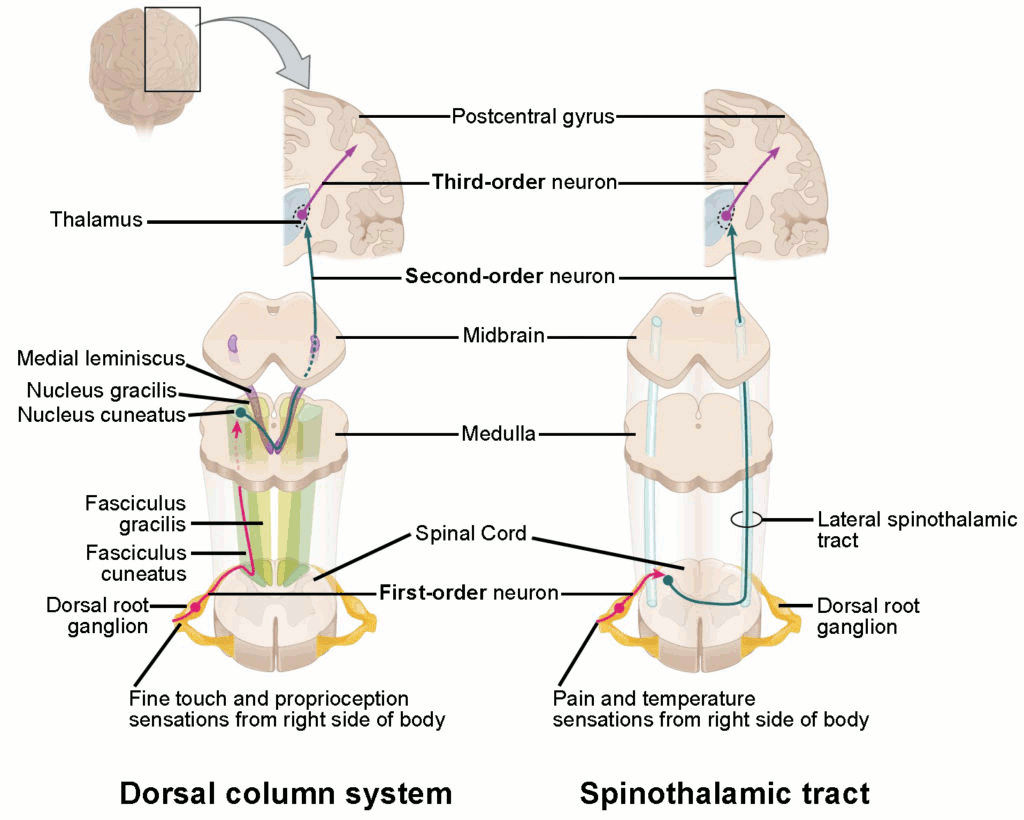 Differentials
Carpal tunnel syndrome
Ulnar neuropathy at elbow (UNE)
Fibular (peroneal) neuropathy
Meralgia paraesthetica
Cervical radiculopathy
Thoracic radiculopathy
Lumbosacral radiculopathy
Spinal cord compression
Multiple sclerosis
Distal symmetric polyneuropathy (DSP)
Diabetes mellitus
Hypothyroidism
Vitamin B1 deficiency
Vitamin B6 deficiency or excess
Vitamin B12 deficiency
Vitamin E deficiency
Drug toxicity
Alcoholic neuropathy
Stroke/transient ischaemic attack
Migraine with aura
Peripheral vascular disease
Panic attack with hyperventilation
Charcot-Marie-Tooth disease
Hereditary sensory and autonomic neuropathy (HSAN)
Hereditary neuropathy with liability to pressure palsy (HNPP)
Brachial plexopathy
Lumbosacral plexopathy
Tibial neuropathy
Trigeminal neuropathy
Acute demyelinating encephalomyelitis
Acute inflammatory demyelinating polyneuropathy (AIDP)
Chronic inflammatory demyelinating polyneuropathy (CIDP)
Chronic inflammatory demyelinating sensory polyradiculopathy (CISP)
Uraemia
Hypocalcaemia
Copper deficiency
Heavy metal poisoning
Radiation
Hexane
Ciguatera or saxitoxin poisoning
HIV neuropathy
Leprosy
Herpes simplex infection
Neurosyphilis
Herpes zoster infection (shingles)
Lyme disease
Conversion and somatic symptom disorders
Inborn errors of metabolism
Rheumatoid arthritis
Systemic lupus erythematosus
Churg-Strauss syndrome
Granulomatosis with polyangiitis (formerly known as Wegener's granulomatosis)
Polyarteritis nodosa
Microscopic polyangiitis
Sjogren's syndrome
Sarcoidosis
Monoclonal protein production
Focal seizures
Paraneoplastic sensory neuropathy or ganglionopathy
Intravascular lymphoma
Neuro-Behcet's disease
Wartenberg's migrant sensory neuritis
Numb chin syndrome
Peripheral neuropathy after bariatric surgery
Notalgia paraesthetica
Neuromyelitis optica spectrum disorder (Devic's disease)
Anti-myelin-associated glycoproteins (MAG) peripheral neuropathy
Hypertriglyceridaemia
Human T-lymphotropic virus (HTLV)
Contributors
Nigel Ashworth, MBChB, MSc, FRCP(Can)

Professor

Division of Physical Medicine & Rehabilitation

Faculty of Medicine & Dentistry

University of Alberta

Edmonton

Canada

Disclosures

NA declares that he has no competing interests.
Acknowledgements

Dr Nigel Ashworth would like to gratefully acknowledge the late Dr Caroline M. Klein for her contribution to this topic.

Disclosures

CMK authored a number of references cited in this topic.
Annabel Wang, MD

Director

Neuromuscular Diagnostic Laboratory

Associate Professor

Department of Neurology

ALS and Neuromuscular Center

University of California

Irvine

CA

Disclosures

AW declares that she has no competing interests.
Richard W. Orrell, BSc, MD, FRCP

Senior Lecturer and Consultant Neurologist

Department of Clinical Neuroscience

UCL Institute of Neurology

London

UK

Disclosures

RWO declares that he has no competing interests.
Guidelines

Suspected neurological conditions: recognition and referral

Quality improvement in neurology: distal symmetric polyneuropathy quality measures

Guidelines

Patient leaflets

Anxiety: what is it?

Diabetes type 1: what is it?

More Patient leaflets

Videos

Diagnostic lumbar puncture in adults: animated demonstration

More videos

Log in or subscribe to access all of BMJ Best Practice