Epidemiologia
A incidência da espondilose cervical varia com a idade. Estudos de ressonância nuclear magnética (RNM) de base populacional mostram que quase 100% dos adultos com idade >40 anos têm degeneração grave de pelo menos 1 nível cervical (comumente C5/6).[1]Matsumoto M, Fujimura Y, Suzuki N, et al. MRI of cervical intervertebral discs in asymptomatic subjects. J Bone Joint Surg Br. 1998 Jan;80(1):19-24. https://online.boneandjoint.org.uk/doi/pdf/10.1302/0301-620X.80B1.0800019 http://www.ncbi.nlm.nih.gov/pubmed/9460946?tool=bestpractice.com [2]Guzman J, Haldeman S, Carroll LJ, et al. Clinical practice implications of the Bone and Joint Decade 2000-2010 Task Force on Neck Pain and Its Associated Disorders: from concepts and findings to recommendations. J Manipulative Physiol Ther. 2009 Feb;32(2 Suppl):S227-43. http://www.ncbi.nlm.nih.gov/pubmed/19251069?tool=bestpractice.com [3]Braga-Baiak A, Shah A, Pietrobon R, et al. Intra- and inter-observer reliability of MRI examination of intervertebral disc abnormalities in patients with cervical myelopathy. Eur J Radiol. 2008 Jan;65(1):91-8. http://www.ncbi.nlm.nih.gov/pubmed/17532165?tool=bestpractice.com [4]Siivola SM, Levoska S, Tervonen O, et al. MRI changes of cervical spine in asymptomatic and symptomatic young adults. Eur Spine J. 2002 Aug;11(4):358-63. http://www.ncbi.nlm.nih.gov/pubmed/12193998?tool=bestpractice.com [5]American College of Radiology. ACR appropriateness criteria: chronic neck pain. 2013 [internet publication]. https://acsearch.acr.org/docs/69426/Narrative/ [6]Binder AI. Neck pain. BMJ Clin Evid. 2008 [internet publication]. https://www.ncbi.nlm.nih.gov/pmc/articles/PMC2907992/ http://www.ncbi.nlm.nih.gov/pubmed/19445809?tool=bestpractice.com No entanto, apenas um subconjunto de pacientes apresenta dor cervical axial e os pacientes geralmente são assintomáticos, embora as radiografias cervicais e a RNM possam mostrar doença degenerativa grave e espontânea.[4]Siivola SM, Levoska S, Tervonen O, et al. MRI changes of cervical spine in asymptomatic and symptomatic young adults. Eur Spine J. 2002 Aug;11(4):358-63. http://www.ncbi.nlm.nih.gov/pubmed/12193998?tool=bestpractice.com [7]Binder AI. Cervical spondylosis and neck pain. BMJ. 2007 Mar 10;334(7592):527-31. http://www.ncbi.nlm.nih.gov/pubmed/17347239?tool=bestpractice.com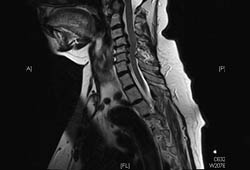 [Figure caption and citation for the preceding image starts]: Alterações graves e de múltiplos níveis da doença degenerativa do disco, mas sem compressão significativa da medula espinhal (isto é, sem deformações ou alterações intrínsecas em T2) na ressonância nuclear magnética (RNM) cervical (T2 sagital)Dennis A. Turner, MA, MD [Citation ends].
A incidência de radiculopatia e mielopatia é muito menor, embora existam poucos estudos de base populacional, com exceção das que tratam das taxas de tratamentos cirúrgicos da espondilose cervical.[8]Rao RD, Currier BL, Albert TJ, et al. Degenerative cervical spondylosis: clinical syndromes, pathogenesis and management. J Bone Joint Surg Am. 2007 Jun;89(6):1360-78. http://www.ncbi.nlm.nih.gov/pubmed/17575617?tool=bestpractice.com No entanto, apenas 1% a 2% dos pacientes com espondilose cervical procedem à intervenção cirúrgica, pois tratamentos não cirúrgicos são suficientes para a maioria dos pacientes.[9]Matz PG. Does nonoperative management play a role in the treatment of cervical spondylotic myelopathy? Spine J. 2006 Nov-Dec;6(6 Suppl):175S-81. http://www.ncbi.nlm.nih.gov/pubmed/17097536?tool=bestpractice.com [10]Mazanec D, Reddy A. Medical management of cervical spondylosis. Neurosurgery. 2007 Jan;60(1 Supp1 1):S43-50. http://www.ncbi.nlm.nih.gov/pubmed/17204885?tool=bestpractice.com [11]Patil PG, Turner DA, Pietrobon R. National trends in surgical procedures for degenerative cervical spine disease: 1990-2000. Neurosurgery. 2005 Oct;57(4):753-8. http://www.ncbi.nlm.nih.gov/pubmed/16239888?tool=bestpractice.com [12]Rao RD, Gourab K, David KS. Operative treatment of cervical spondylotic myelopathy. J Bone Surg Am. 2006 Jul;88(7):1619-40. http://www.ncbi.nlm.nih.gov/pubmed/16818991?tool=bestpractice.com [13]Salt E, Wright C, Kelly S, Dean A. A systematic literature review on the effectiveness of non-invasive therapy for cervicobrachial pain. Man Ther. 2011 Feb;16(1):53-65. http://www.ncbi.nlm.nih.gov/pubmed/21075037?tool=bestpractice.com
A taxa relativamente alta de realização de estudos de RNM cervical para os sintomas de dor cervical axial nos EUA provavelmente influencia tanto a taxa de intervenções agressivas quanto a conscientização geral desse problema comum. Por exemplo, é provável que a degeneração do disco (isto é, a dessecação de uma articulação de disco normalmente hidratada com subsequente estreitamento da articulação) seja ubíqua depois dos 30 anos de idade em decorrência da perda intrínseca das células do disco, que mantêm a hidratação. As facetas articulares seguem o padrão mais comum de degeneração da articulação sinovial.