Last reviewed:
5 Sep 2023
Last updated:
08 Nov 2022
Summary
Ischemic bowel disease can be classified into three types: acute mesenteric ischemia, chronic mesenteric ischemia, and colonic ischemia. Acute mesenteric ischemia may also be further subdivided into embolic mesenteric ischemia, thrombotic mesenteric ischemia, and venous mesenteric ischemia. Colonic ischemia is the most common type and has the most favorable prognosis.
It may present clinically in a number of ways, including transient reversible ischemia, chronic irreversible ischemia, or acute fulminant ischemia.
Mesenteric venous thrombosis may lead to acute or subacute intestinal ischemia and may also present across a spectrum of severity.
Long-term complications of ischemic bowel disease depend on the location and nature of the underlying pathology. Possible complications include stricture formation, short bowel syndrome, and food fear leading to malnutrition.
Definition
Ischemic bowel disease encompasses a heterogeneous group of disorders caused by acute or chronic processes, arising from occlusive or nonocclusive etiologies, which result in decreased blood flow to the gastrointestinal tract. The clinical course may range from transient and reversible to fulminant.[Figure caption and citation for the preceding image starts]: Histopathology of intestinal ischemiaFrom the collection of Dr Jennifer Holder-Murray; used with permission [Citation ends].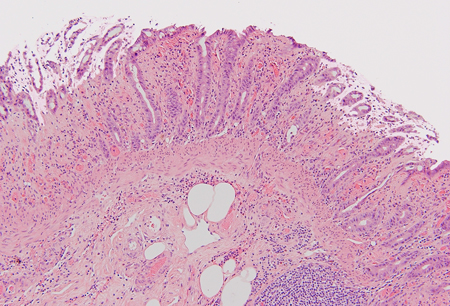 History and exam
Key diagnostic factors
More key diagnostic factors
Other diagnostic factors
hematochezia/melena
diarrhea
abdominal tenderness
weight loss
abdominal bruit
vasculitis
light headedness, pallor, dyspnea
food fear (sitophobia)
Risk factors
old age
history of smoking
hypercoagulable states
atrial fibrillation
myocardial infarction
structural heart defects
history of vasculitis
atherosclerosis
recent cardiovascular surgery
shock
congestive heart failure
previous ileostomy
irritable bowel syndrome
colonic carcinoma
constipation
long-term laxative use
use of vasopressors, digitalis, cocaine
Diagnostic investigations
1st investigations to order
CT angiogram
CBC
chemistry panel including serum lactate
coagulation panel
arterial blood gas/lactate level
ECG
erect CXR
abdominal x-rays
sigmoidoscopy or colonoscopy
More 1st investigations to order
Investigations to consider
magnetic resonance imaging/magnetic resonance angiography
mesenteric angiography
mesenteric duplex ultrasound
More investigations to consider
Treatment algorithm
evidence of infarction, perforation, or peritonitis
no evidence of infarction, perforation, or peritonitis
chronic mesenteric ischemia
nonacute colonic ischemia
Contributors
Monjur Ahmed, AGAF, FACG, FACP, FASGE, FRCP, MD, MRCP

Clinical Associate Professor

Thomas Jefferson University

Gastroenterologist

Thomas Jefferson University Hospital

Philadelphia

PA

Disclosures

MA declares that he has no competing interests.
Acknowledgements

Dr Monjur Ahmed would like to gratefully acknowledge Dr Alex von Roon, Dr James Lewis, Dr Amir Bastawrous, Dr Jennifer Holder-Murray, and Dr Alessandro Fichera, previous contributors to this topic.

Disclosures

AVR, JL, AB, JHM, and AF declare that they have no competing interests.
Eli D. Ehrenpreis, MD

Professor of Medicine

Rosalind Franklin University Medical School

Chicago

IL

Disclosures

EDE declares that he has no competing interests.
Andrew Poullis, BSc, MBBS, MD, FRCP

Consultant Gastroenterologist

St George's Hospital

London

UK

Disclosures

AP declares that he has no competing interests.
Differentials

Infectious colitis

Ulcerative colitis

Crohn disease

More Differentials

Guidelines

ACR appropriateness criteria: radiologic management of mesenteric ischemia

ACR appropriateness criteria: imaging of mesenteric ischemia

More Guidelines

Patient leaflets

Ischemic bowel disease: what is it?

Ischemic bowel disease: what treatments work?

More Patient leaflets

Videos

Venepuncture and phlebotomy: animated demonstration

How to perform an ECG: animated demonstration

More videos

Log in or subscribe to access all of BMJ Best Practice