Investigations
Test
Microcephaly can sometimes be diagnosed on prenatal ultrasound, especially if performed in late pregnancy. Intrauterine diagnosis of microcephaly is made when the head circumference is ≥2 standard deviations below the mean for gender and gestational age.[171]Pan American Health Organization. Preliminary guidelines for the surveillance of microcephaly in newborns in settings with risk of Zika virus circulation. 2016 [internet publication]. http://iris.paho.org/xmlui/handle/123456789/18601
Pregnant women with laboratory evidence of possible Zika virus infection should have serial ultrasounds every 3 to 4 weeks to monitor fetal anatomy and growth, and be referred to a specialist.[148]Oduyebo T, Polen KD, Walke HT, et al. Update: interim guidance for health care providers caring for pregnant women with possible Zika virus exposure - United States (including US territories), July 2017. MMWR Morb Mortal Wkly Rep. 2017 Jul 28;66(29):781-93. https://www.cdc.gov/mmwr/volumes/66/wr/mm6629e1.htm http://www.ncbi.nlm.nih.gov/pubmed/28749921?tool=bestpractice.com
In Brazil, 3 ultrasounds are recommended during low-risk pregnancies, with monthly ultrasounds recommended in pregnant women with confirmed infection.[178]Duarte G, Moron AF, Timerman A, et al. Zika virus infection in pregnant women and microcephaly. Rev Bras Ginecol Obstet. 2017 May;39(5):235-48. https://www.thieme-connect.com/DOI/DOI?10.1055/s-0037-1603450 http://www.ncbi.nlm.nih.gov/pubmed/28575919?tool=bestpractice.com
A systematic review and meta-analysis found that overall diagnostic test accuracy of ultrasound for predicting microcephaly at birth is limited as it varies with the applied cut-offs, and that it appears more accurate at detecting the absence of microcephaly rather than its presence.[179]Chibueze EC, Parsons AJQ, Lopes KDS, et al. Diagnostic accuracy of ultrasound scanning for prenatal microcephaly in the context of Zika virus infection: a systematic review and meta-analysis. Sci Rep. 2017 May 23;7(1):2310. https://www.ncbi.nlm.nih.gov/pmc/articles/PMC5442132 http://www.ncbi.nlm.nih.gov/pubmed/28536443?tool=bestpractice.com
Result
may show microcephaly, intracranial calcifications, or brain/eye abnormalities
Test
If amniocentesis is performed as part of routine clinical care, RT-PCR should be performed on amniotic fluid as a positive result may indicate fetal infection.[148]Oduyebo T, Polen KD, Walke HT, et al. Update: interim guidance for health care providers caring for pregnant women with possible Zika virus exposure - United States (including US territories), July 2017. MMWR Morb Mortal Wkly Rep. 2017 Jul 28;66(29):781-93. https://www.cdc.gov/mmwr/volumes/66/wr/mm6629e1.htm http://www.ncbi.nlm.nih.gov/pubmed/28749921?tool=bestpractice.com
Result
positive for Zika virus RNA
Test
Infant's head circumference should be measured at birth, 24 hours after birth, and then regularly during early infancy using standardized methods and compared with growth standards.[171]Pan American Health Organization. Preliminary guidelines for the surveillance of microcephaly in newborns in settings with risk of Zika virus circulation. 2016 [internet publication]. http://iris.paho.org/xmlui/handle/123456789/18601 [180]World Health Organization. Screening, assessment and management of neonates and infants with complications associated with Zika virus exposure in utero. August 2016 [internet publication]. http://www.who.int/csr/resources/publications/zika/assessment-infants/en
The Centers for Disease Control and Prevention (CDC) defines definite microcephaly as head circumference at birth less than the third percentile for gestational age and gender, or head circumference less than the third percentile for age and gender within the first 2 weeks of life (if head circumference at birth is not available).[181]Centers for Disease Control and Prevention. Congenital Zika syndrome & other birth defects. May 2019 [internet publication]. https://www.cdc.gov/pregnancy/zika/testing-follow-up/zika-syndrome-birth-defects.html
The World Health Organization (WHO) defines microcephaly as a head circumference of ≥2 standard deviations below the mean for age and gender, and severe microcephaly as a head circumference of ≥3 standard deviations below the mean for age and gender. WHO Child Growth Standards or the INTERGROWTH-21 Size at Birth Standards should be used to interpret measurements.[180]World Health Organization. Screening, assessment and management of neonates and infants with complications associated with Zika virus exposure in utero. August 2016 [internet publication]. http://www.who.int/csr/resources/publications/zika/assessment-infants/en
Some infants may present with craniofacial disproportion (i.e., the head appears disproportionately small relative to the face).[180]World Health Organization. Screening, assessment and management of neonates and infants with complications associated with Zika virus exposure in utero. August 2016 [internet publication]. http://www.who.int/csr/resources/publications/zika/assessment-infants/en
Poor head growth with microcephaly developing after birth has been reported in a small number of patients in Brazil.[164]van der Linden V, Pessoa A, Dobyns W, et al. Description of 13 infants born during October 2015-January 2016 with congenital Zika virus infection without microcephaly at birth - Brazil. MMWR Morb Mortal Wkly Rep. 2016 Dec 2;65(47):1343-8. https://www.cdc.gov/mmwr/volumes/65/wr/mm6547e2.htm http://www.ncbi.nlm.nih.gov/pubmed/27906905?tool=bestpractice.com
CDC: measuring infant head circumference: an instructional video for healthcare providers
Result
third percentile or ≥2 standard deviations below the mean (for age and gender)
Test
A standard evaluation is recommended in all infants born to mothers with possible or confirmed infection, regardless of whether the infant has clinical findings consistent with congenital Zika syndrome. The evaluation should include: a comprehensive physical exam including growth parameters; developmental monitoring and screening using validated tools; vision screening; and newborn hearing screen at birth, with automated auditory brainstem response (ABR) if possible.[2]Adebanjo T, Godfred-Cato S, Viens L, et al. Update: interim guidance for the diagnosis, evaluation, and management of infants with possible congenital Zika virus infection - United States, October 2017. MMWR Morb Mortal Wkly Rep. 2017 Oct 20;66(41):1089-99. https://www.cdc.gov/mmwr/volumes/66/wr/mm6641a1.htm?s_cid=mm6641a1_w http://www.ncbi.nlm.nih.gov/pubmed/29049277?tool=bestpractice.com
In addition to this, infants with clinical findings consistent with congenital Zika syndrome, and infants without clinical findings born to mothers with laboratory evidence of possible Zika virus infection, should have the following investigations: head ultrasound; comprehensive ophthalmologic exam by 1 month of age; and automated ABR by 1 month of age (if not already done as part of standard newborn evaluation).[2]Adebanjo T, Godfred-Cato S, Viens L, et al. Update: interim guidance for the diagnosis, evaluation, and management of infants with possible congenital Zika virus infection - United States, October 2017. MMWR Morb Mortal Wkly Rep. 2017 Oct 20;66(41):1089-99. https://www.cdc.gov/mmwr/volumes/66/wr/mm6641a1.htm?s_cid=mm6641a1_w http://www.ncbi.nlm.nih.gov/pubmed/29049277?tool=bestpractice.com  
Infants with clinical findings consistent with congenital Zika syndrome should also have the following: referral to a development specialist, early intervention service programs, and family support services; and consultation with infectious disease, clinical genetics, and neurology specialists, as well as any other clinical specialists based on the infant's clinical findings (e.g., endocrinologist, lactation specialist, gastroenterologist, speech or occupational therapist, orthopedist, physical therapist, pulmonologist).[2]Adebanjo T, Godfred-Cato S, Viens L, et al. Update: interim guidance for the diagnosis, evaluation, and management of infants with possible congenital Zika virus infection - United States, October 2017. MMWR Morb Mortal Wkly Rep. 2017 Oct 20;66(41):1089-99. https://www.cdc.gov/mmwr/volumes/66/wr/mm6641a1.htm?s_cid=mm6641a1_w http://www.ncbi.nlm.nih.gov/pubmed/29049277?tool=bestpractice.com
Result
abnormalities consistent with congenital Zika virus infection
Test
Recommended in infants with microcephaly (or craniofacial disproportion) where Zika infection is suspected in the mother during pregnancy, or if any neurologic signs/symptoms are present in the infant.[180]World Health Organization. Screening, assessment and management of neonates and infants with complications associated with Zika virus exposure in utero. August 2016 [internet publication]. http://www.who.int/csr/resources/publications/zika/assessment-infants/en
Either CT or MRI can be performed; however, an MRI may provide more detail and can potentially detect other conditions.[180]World Health Organization. Screening, assessment and management of neonates and infants with complications associated with Zika virus exposure in utero. August 2016 [internet publication]. http://www.who.int/csr/resources/publications/zika/assessment-infants/en
The most common feature found on CT is brain calcifications in the junction between the cortical and subcortical white matter, often with a simplified gyral pattern and predominance of pachygyria or polymicrogyria in the frontal lobes. These calcifications often resolve; therefore, the absence of calcifications should not exclude the diagnosis, and the presence of calcifications should not be consIdered a major criterion for diagnosis.[182]Petribu NCL, Aragao MFV, van der Linden V, et al. Follow-up brain imaging of 37 children with congenital Zika syndrome: case series study. BMJ. 2017 Oct 13;359:j4188. http://www.bmj.com/content/359/bmj.j4188.long http://www.ncbi.nlm.nih.gov/pubmed/29030384?tool=bestpractice.com
Other findings include abnormalities of the corpus callosum (hypogenesis or hypoplasia), enlarged cisterna magna, ventriculomegaly, delayed myelination, and hypoplasia of the cerebellum and brainstem.[183]de Fatima Vasco Aragao M, van der Linden V, Brainer-Lima AM, et al. Clinical features and neuroimaging (CT and MRI) findings in presumed Zika virus related congenital infection and microcephaly: retrospective case series study. BMJ. 2016 Apr 13;353:i1901. http://www.bmj.com/content/353/bmj.i1901 http://www.ncbi.nlm.nih.gov/pubmed/27075009?tool=bestpractice.com [184]Soares de Oliveira-Szejnfeld P, Levine D, Melo AS, et al. Congenital brain abnormalities and Zika virus: what the radiologist can expect to see prenatally and postnatally. Radiology. 2016 Oct;281(1):203-18. http://www.ncbi.nlm.nih.gov/pubmed/27552432?tool=bestpractice.com
Some infants have been found to have vision-threatening eye findings (e.g., macular and perimacular lesions, pigmentary retinopathy and atrophy, torpedo maculopathy, hemorrhagic retinopathy).[185]Oliveira Melo AS, Malinger G, Ximenes R, et al. Zika virus intrauterine infection causes fetal brain abnormality and microcephaly: tip of the iceberg? Ultrasound Obstet Gynecol. 2016 Jan;47(1):6-7. http://onlinelibrary.wiley.com/doi/10.1002/uog.15831/full http://www.ncbi.nlm.nih.gov/pubmed/26731034?tool=bestpractice.com [186]de Paula Freitas B, de Oliveira Dias JR, Prazeres J, et al. Ocular findings in infants with microcephaly associated with presumed Zika virus congenital infection in Salvador, Brazil. JAMA Ophthalmol. 2016 May 1;134(5):529-35. http://www.ncbi.nlm.nih.gov/pubmed/26865554?tool=bestpractice.com [187]Ventura CV, Maia M, Bravo-Filho V, et al. Zika virus in Brazil and macular atrophy in a child with microcephaly. Lancet. 2016 Jan 16;387(10015):228. http://www.ncbi.nlm.nih.gov/pubmed/26775125?tool=bestpractice.com [188]Mlakar J, Korva M, Tul N, et al. Zika virus associated with microcephaly. N Engl J Med. 2016 Mar 10;374(10):951-8. http://www.nejm.org/doi/full/10.1056/NEJMoa1600651 http://www.ncbi.nlm.nih.gov/pubmed/26862926?tool=bestpractice.com [189]Jampol LM, Goldstein DA. Zika virus infection and the eye. JAMA Ophthalmol. 2016 May 1;134(5):535-6. https://archopht.jamanetwork.com/article.aspx?articleid=2491895 http://www.ncbi.nlm.nih.gov/pubmed/26865476?tool=bestpractice.com [190]Miranda HA 2nd, Costa MC, Frazão MA, et al. Expanded spectrum of congenital ocular findings in microcephaly with presumed Zika infection. Ophthalmology. 2016 Aug;123(8):1788-94. http://www.ncbi.nlm.nih.gov/pubmed/27236271?tool=bestpractice.com Ocular findings were seen more often in infants with smaller cephalic diameter at birth, and infants born to mothers who reported symptoms in the first trimester.[191]Ventura CV, Maia M, Travassos SB, et al. Risk factors associated with the ophthalmoscopic findings identified in infants with presumed Zika virus congenital infection. JAMA Ophthalmol. 2016 Aug 1;134(8):912-8. http://archopht.jamanetwork.com/article.aspx?articleid=2525773 http://www.ncbi.nlm.nih.gov/pubmed/27228275?tool=bestpractice.com
Signs of congenital brain injury (e.g., subependymal cysts, lenticulostriate vasculopathy) due to Zika virus infection acquired during the third trimester of pregnancy have been reported.[163]Soares de Souza A, Dias CM, Braga FD, et al. Fetal infection by Zika virus in the third trimester: report of 2 cases. Clin Infect Dis. 2016 Dec 15;63(12):1622-5. http://www.ncbi.nlm.nih.gov/pubmed/27601223?tool=bestpractice.com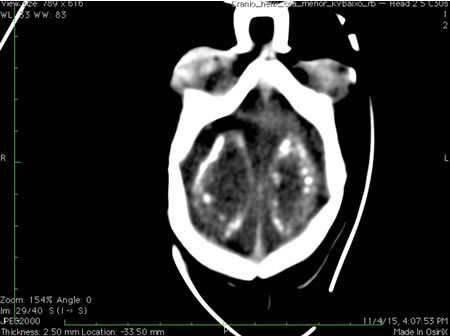 [Figure caption and citation for the preceding image starts]: CT scan of the head of an infant with Zika virus infection showing a clear distribution of periventricular calcificationsFrom the personal collection of Dr Geraldo Furtado, MD, MSc (used with permission) [Citation ends].
Result
may show intracranial calcifications, ventriculomegaly, cerebellar hypoplasia, callosal abnormalities, or ocular findings
Test
Nerve conduction studies/electromyography and CSF exam should be performed in patients with suspected Guillain-Barre syndrome if available; however, these investigations are not needed to make a clinical diagnosis and should not delay treatment.[152]World Health Organization. Identification and management of Guillain-Barré syndrome in the context of Zika virus - interim guidance. August 2016 [internet publication]. http://www.who.int/csr/resources/publications/zika/guillain-barre-syndrome/en
Interpretation of these studies and definitive diagnosis requires consultation with a neurologist.
Result
slowing of nerve conduction velocities; elevated CSF protein