Approach
Diagnosis is made by history and physical examination. Diagnosis is often multi-disciplinary, as the gastrointestinal tract may be involved, or systemic disease may be uncovered in the course of investigation.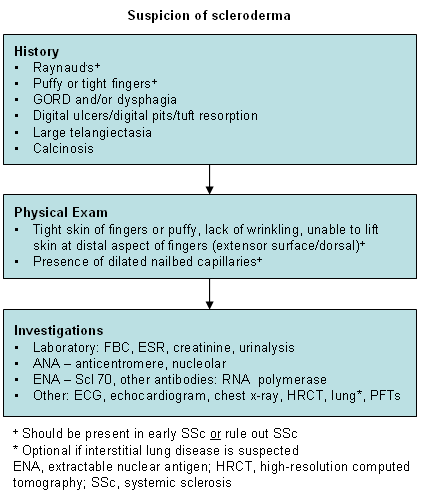 [Figure caption and citation for the preceding image starts]: Algorithm for diagnosis of systemic sclerosisFrom the personal collection of Professor J. Pope; used with permission [Citation ends].
BMJ Best Practice is an evidence-based point of care tool for healthcare practitioners.
To continue reading and access all of BMJ Best Practice's pages you'll need to log in or start a free trial.
You can access through your institution if your hospital, university, trust or other institution provides access to BMJ Best Practice through either OpenAthens or Shibboleth.