Last reviewed:
28 Oct 2021
Last updated:
22 Mar 2021
Summary
Gonorrhoea infection is a common STI caused by Neisseria gonorrhoeae, a gram-negative diplococcus bacterium that is closely related to other human Neisseria species.
Men typically present with a urethral discharge; women are often asymptomatic, but may have vaginal discharge.
Risk factors include multiple sexual partners in recent months, known partner with gonorrhoea, drug use, prior STI, and men who have sex with men.
If left untreated, N gonorrhoeae can disseminate to areas of the body to cause skin and synovial infections; rarer complications include meningitis, endocarditis, and perihepatic abscesses.
High rates of antimicrobial resistance have been reported, and antibiotic treatment should be guided by local and national guidelines. The main treatment for uncomplicated gonorrhoea is monotherapy with single-dose intramuscular ceftriaxone.
The treatment of N gonorrhoeae is important in the prevention of infertility, chronic pelvic pain, and ectopic pregnancy in women.
If acquired congenitally from an infected mother, the neonate can present with ophthalmia neonatorum, which left untreated can cause blindness.
Definition
Neisseria gonorrhoeae is a gram-negative diplococcus bacterium that is closely related to other human Neisseria species.[1]Smith NH, Holmes EC, Donovan GM, et al. Networks and groups within the genus Neisseria: analysis of argF, recA, rho and 16S rRNA from human Neisseria species. Mol Biol Evol. 1999 Jun;16(6):773-83. http://mbe.oxfordjournals.org/cgi/reprint/16/6/773 http://www.ncbi.nlm.nih.gov/pubmed/10368955?tool=bestpractice.com Gonorrhoea is any manifestation of infection by N gonorrhoeae. Aside from causing infection in the lower genital tract, it can also cause conjunctivitis and severe disseminated infections, especially if acquired congenitally. The pathogen is almost exclusively sexually transmitted and can be found in the genital tract, pharynx, and rectum.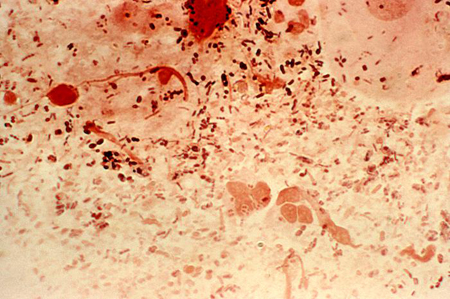 [Figure caption and citation for the preceding image starts]: This gram-stained micrograph of a rectal smear specimen reveals the presence of diplococcal Neisseria gonorrhoeae bacteriaUS Centers for Disease Control and Prevention/ Joe Miller [Citation ends].
History and exam
presence of risk factors
urethral discharge in men
tenderness and/or swelling of the epididymis
mucopurulent or purulent exudate at the endocervix
pelvic pain in women
urethral irritation in men
dysuria in men
tenderness and/or swelling of testis
tenderness and/or swelling of prostate
anal pruritus
mucopurulent discharge from the rectum
rectal pain
tenesmus
rectal bleeding
vaginal discharge
cervical friability
uterine, adnexal, or cervical motion tenderness
uterine mass
anterior cervical lymphadenopathy
conjunctivitis
fever
skin lesions (papules, bullae, petechiae, or necrotic) at extremities
polyarthritis
purpuric rash
positive Brudzinski's sign and Kernig's sign
seizures
focal cerebral signs
murmur
ophthalmia neonatorum
rhinitis
urethritis (infantile)
vaginitis
age 15 to 29 years
men who have sex with men (MSM)
black ancestry
current or prior history of STI
multiple recent sexual partners
inconsistent condom use
risk factors of partner
history of sexual or physical abuse
substance use
past incarceration
high morbidity community
Diagnostic investigations
nucleic acid amplification test (NAAT)
culture
urinalysis in men
Gram stain of urine sediment
Gram strain of urethral discharge
HIV test
syphilis test
transvaginal ultrasound
pelvic CT/MRI
Treatment algorithm
Contributors
Sheldon Morris, MD, MPH

Assistant Professor

Division of Infectious Diseases

Department of Medicine

UCSD Antiviral Research Center

Division of Family Medicine

Department of Family and Preventive Medicine

UCSD La Jolla Family and Sports Medicine

San Diego

CA

Disclosures

SM has completed a National Institutes of Health contract for research study on the Visby Medical Sexual Health Test. SM is an author of a number of references cited in this topic.
Vani Dandolu, MD, MPH

Associate Professor

Ob/Gyn and Urology

Director

Division of Urogynecology

Associate Residency Program Director

Temple University Hospital

Philadelphia

PA

Disclosures

VD declares that he has no competing interests.
Eva Jungmann, FRCP MSc

Consultant in Genitourinary and HIV Medicine

Archway Centre & Mortimer Market Centre

London

UK

Disclosures

EJ declares that she has no competing interests.