Last reviewed:
2 Feb 2021
Last updated:
10 Dec 2019
Summary
Styes are typically tender to palpation, while chalazia are not.
Dacryoadenitis and dacryocystitis can be confused with stye; their respective locations (lateral upper lid and inferior to the medial epicanthus) are key.
Most styes and chalazia resolve with warm compresses and topical antibiotics.
Recurrent lesions may require biopsy to exclude carcinomas. Recurrent chalazia may require excision.
Definition
Stye, also known as hordeolum, is an acute infectious process involving abscess formation at the upper or lower eyelid. One of 3 glands is typically infected: the meibomian glands or the glands of Zeis and Moll (ciliary glands). Staphylococcus aureus (most common) and S epidermidis are typically involved, and the eyelid appears erythematous and swollen in addition to being tender to palpation.
Chalazia are non-infectious inflammatory conditions caused by a foreign body reaction to sebum released by meibomian glands.
History and exam
acute pain of eyelid only
pustule at eyelid margin
pustule at tarsal conjunctiva
palpable non-tender nodule
lack of constitutional symptoms
lack of eye pain
lack of intra-ocular pathology
chronic swelling of eyelid
age 30 to 50 years
history of blepharitis and ocular rosacea
age 30 to 50 years
blepharitis and ocular rosacea
seborrhoeic dermatitis
elevated serum cholesterol
diabetes mellitus
Diagnostic investigations
biopsy
CT scan of face and orbits
Treatment algorithm
Contributors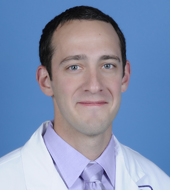 Associate Professor of Emergency Medicine
Chief of Clinical Operations
Emergency Department
University of Colorado Hospital
University of Colorado School Of Medicine
Aurora
CO
Disclosures
CM declares that he has no competing interests.