Last reviewed:
25 Sep 2021
Last updated:
04 Sep 2018
Summary
Results in negative pressure in the middle ear cleft.
Closely related to development of chronic otitis media.
Often accompanied by chronic inflammatory disease of the nasal cavity.
Diagnosis may be confirmed by tympanometry.
Treatment involves supportive care and nasal corticosteroids. Surgery is appropriate if the Eustachian tube is obstructed or in the case of trauma. Pressure equalisation tubes are inserted if there are chronic otological complications.
Definition
Eustachian tube dysfunction (ETD) is the inability of the Eustachian tube to properly regulate air pressure inside the middle ear and/or effectively drain secretions from the middle ear cleft. Occasionally, dysfunction may involve reflux of nasopharyngeal secretions in the middle ear. These malfunctions may be due to a variety of pathophysiological changes that in some way impede the normal opening and closing of the Eustachian tube.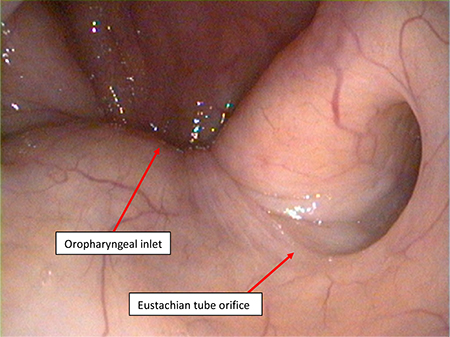 [Figure caption and citation for the preceding image starts]: A normal left Eustachian tube as seen endoscopically from the posterior nasal cavity.From the collection of Edward D. McCoul; used with permission [Citation ends].
History and exam
presence of risk factors
inability to 'pop' or 'clear' the ear with changes in barometric pressure
normal head and neck examination
aural fullness
subjective hearing loss
autophony
history of serous otitis media or of chronic otitis media
oedema of the Eustachian tube orifice
history of retracted or hypermobile tympanic membrane
cleft palate
adenoid hypertrophy
allergic rhinitis
neoplasm of nasopharynx or infratemporal fossa
Eustachian tube trauma
Eustachian tube infection
age <5 years
cigarette smoking
GORD
radiation exposure
history of recent weight loss
Diagnostic investigations
Treatment algorithm
Contributors
Edward D. McCoul, MD, MPH

Associate Professor

Department of Otorhinolaryngology

Ochsner Clinical School

University of Queensland School of Medicine

New Orleans

LA

Disclosures

EDM is the author of references cited in this topic and was previously a consultant for Acclarent Inc., the manufacturer of a balloon dilation device.
Acknowledgements

Dr Edward D. McCoul would like to gratefully acknowledge Dr Erica R. Thaler, the previous contributor to this monograph. ERT declares that she has no competing interests.
Alan G. Micco, MD

Associate Professor

Otolaryngology: Head and Neck Surgery

Northwestern University Feinberg School of Medicine

Chicago

IL

Disclosures

AGM declares that he has no competing interests.
Niels van Heerbeek, MD, PhD

Consultant

Department of Otorhinolaryngology, Head & Neck Surgery

University Medical Centre

Nijmegen

The Netherlands

Disclosures

NVH declares that he has no competing interests.