Approach
There are two aspects to the diagnosis: the recognition of an acute episode of MH, and the identification of patients with susceptibility to MH. Susceptibility to MH is a sub-clinical condition, although patients may describe feeling uncomfortable exercising in the heat, and some patients may complain of muscle cramps.[11]Groom L, Muldoon SM, Tang ZZ, et al. Identical de novo mutation in the type 1 ryanodine receptor gene associated with fatal, stress-induced malignant hyperthermia in two unrelated families. Anesthesiology. 2011 Nov;115(5):938-45. http://www.ncbi.nlm.nih.gov/pubmed/21918424?tool=bestpractice.com
Testing for susceptibility to MH by muscle contracture testing and/or genetic screening is part of basic health maintenance for families affected by MH. There can be discordance between genetic testing and muscle contracture testing results.[6]Rosenberg H, Pollock N, Schiemann A, et al. Malignant hyperthermia: a review. Orphanet J Rare Dis. 2015 Aug 4;10:93. http://ojrd.biomedcentral.com/articles/10.1186/s13023-015-0310-1 http://www.ncbi.nlm.nih.gov/pubmed/26238698?tool=bestpractice.com [51]Robinson RL, Anetseder MJ, Brancadoro V, et al. Recent advances in the diagnosis of malignant hyperthermia susceptibility: how confident can we be of genetic testing? Eur J Human Genet. 2003 Apr;11(4):342-8. http://www.nature.com/ejhg/journal/v11/n4/pdf/5200964a.pdf http://www.ncbi.nlm.nih.gov/pubmed/12700608?tool=bestpractice.com For diagnostic purposes the results of muscle contracture testing should be relied upon. However, when a causative genetic variant is identified, a diagnosis of malignant hyperthermia susceptibility should be applied; in this case, muscle contracture testing is not required.[52]Hopkins PM, Rüffert H, Snoeck MM, et al. European Malignant Hyperthermia Group guidelines for investigation of malignant hyperthermia susceptibility. Br J Anaesth. 2015 Oct;115(4):531-9. https://www.emhg.org/testing-for-mh-1 http://www.ncbi.nlm.nih.gov/pubmed/26188342?tool=bestpractice.com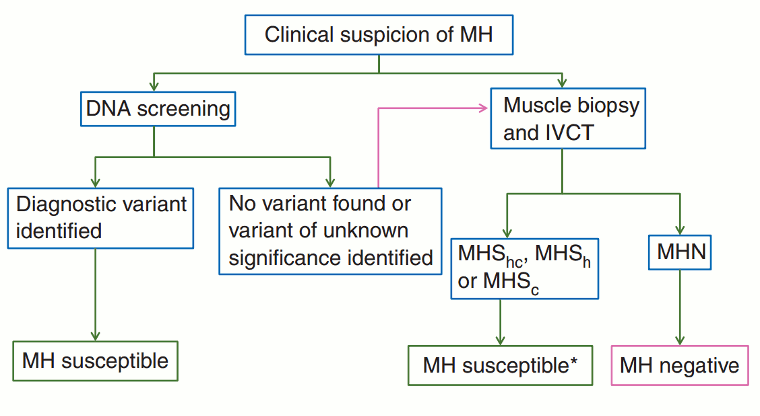 [Figure caption and citation for the preceding image starts]: Diagnostic pathway for investigation of MH susceptibility. IVCT, in vitro contracture test; MH, malignant hyperthermia; MHN (MH negative or normal), classification applied when all contracture tests are negative; MHShc, MHSh, and MHSc, classifications are applied when contracture responses to both halothane and caffeine are abnormal, response to halothane alone is abnormal, or response to caffeine alone is abnormal, respectively. *Patients who should be asked to take part in research studies of the genetic basis of malignant hyperthermiaHopkins PM et al. Br J Anaesth. 2015 Oct;115(4):531-9. Used with permission [Citation ends].
Key risk factors for MH include exposure to potent inhalation anaesthetic and/or succinylcholine (suxamethonium), known susceptibility to MH, a previous MH episode, and/or a positive family history.
BMJ Best Practice is an evidence-based point of care tool for healthcare practitioners.
To continue reading and access all of BMJ Best Practice's pages you'll need to log in or start a free trial.
You can access through your institution if your hospital, university, trust or other institution provides access to BMJ Best Practice through either OpenAthens or Shibboleth.