Best Evidence-Based
Clinical Decision
Support Tool
BMJ Best Practice is the only EBM tool with a dedicated Comorbidities Manager. Point-of-care guidance is uniquely structured around the patient consultation. Healthcare professionals and teams receive a tailored plan that treats the whole patient.
Please note: Within the Americas, Comorbidities access is currently limited to Canada, Latin America, and the Caribbean.
Explore Comorbidities Topics
When comorbidities are considered in the acute care setting, healthcare professionals more effectively manage their patients. This leads to better clinical outcomes, shorter hospital stays and fewer readmissions.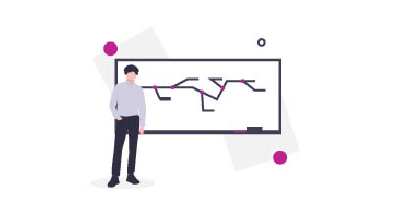 50+ Acute Care Topics
×
The Comorbidities Manager has been incorporated into 50+ topics within BMJ Best Practice, providing more than 25,500 different guideline combinations.
Acute appendicitis in adults
Acute asthma exacerbation in adults
Acute cervical spine trauma in adults
Acute cholangitis
Acute cholecystitis
Acute exacerbation of COPD
Acute heart failure
Acute kidney injury
Acute pancreatitis
Acute pyelonephritis
Alcohol withdrawal
Anaphylaxis
Bacterial meningitis in adults
Carbon monoxide poisoning
Cellulitis and erysipelas
Cholelithiasis (gallstones)
Community-acquired pneumonia
Coronavirus disease 2019 (COVID-19)
Diabetic ketoacidosis
Epistaxis
Heat stroke in adults
Hip fracture
Hospital-acquired pneumonia
Hyperosmolar hyperglycaemic state
Ischaemic stroke
Large bowel obstruction
Mild traumatic brain injury
Nephrolithiasis
New-onset atrial fibrillation
Non-ST-elevation myocardial infarction
Osteomyelitis
Paracetamol overdose in adults
Peptic ulcer disease
Pneumothorax
Pulmonary embolism
Salicylate poisoning
Schizophrenia
Sepsis in adults
Septic arthritis
Shock
Skull fractures
Small bowel obstruction
ST-elevation myocardial infarction
Status epilepticus
Stroke due to spontaneous intracerebral haemorrhage
Subarachnoid haemorrhage
Transient ischaemic attack
Unstable angina
Urinary tract infections in women
Viral gastroenteritis in adults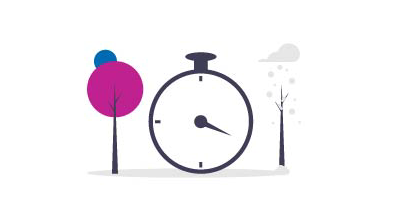 Free: Acute Exacerbation of COPD
×
Chronic obstructive pulmonary disease (COPD) is a long-term condition that affects a patient's lungs. It causes the airways to become narrow, trapping air in the chest and making it difficult to exhale. An acute exacerbation of COPD (AECOPD) is a type of clinical diagnosis that occurs when patients with COPD experience a sustained increase in dyspnea, sputum production, and or cough. It is important to note that comorbidities have a significant impact on the treatment considerations for AECOPD.
Test the Comorbidities Manager for evidence-based guidance on symptom evaluation, test ordering and treatment.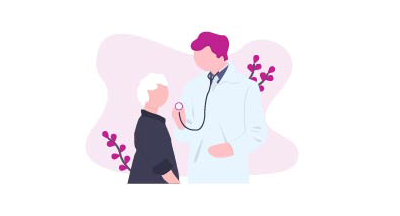 Free: COVID-19
×
The presence of two chronic conditions alongside COVID-19 may increase the chance of hospitalization and/or the risk of death. As reported by the Public Health Agency of Canada, 90% of COVID-19 related deaths between March and July 2020 occurred among those with a pre-existing comorbidity.
Test the Comorbidities Manager to see how our clinical decision support tool can help professionals in COVID-19 care, management and severity assessment.
1in3
Canadian adults suffer from multiple chronic conditions
60%
of patients admitted to the ICU with COVID-19 suffer from comorbidities
97%
of healthcare professionals would consider using this tool to improve the care that they give in the future.
Watch the Comorbidities Manager in action
An 82-year-old man comes to the ER with an acute exacerbation of COPD. See how the Comorbidities Manager prompts the clinician to consider his Type 2 Diabetes alongside his acute condition. The result is a tailored treatment plan based on evidence and expert opinion.
Offline access = Real time support
BMJ Best Practice is device responsive and works across a wide variety of mobile computing devices and personal digital assistants. Our complimentary app also provides convenient offline access to the entire product and additional tools, such as the 'Look Up' command and split screen.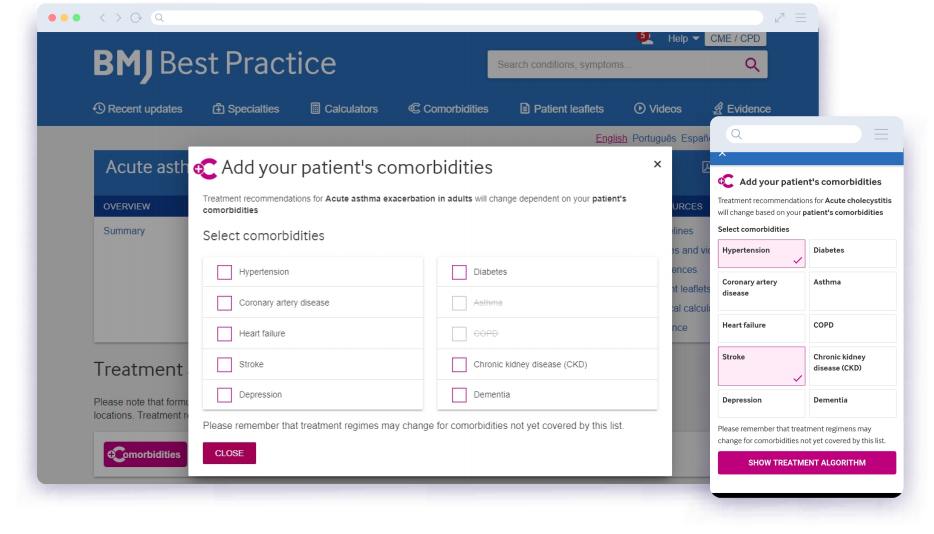 Ranked one of the best clinical decision support tools for health professionals worldwide*
BMJ Best Practice provides step-by-step guidance on symptom evaluation, diagnosis, treatment, follow up and future prevention. Updated daily.
Review the benefits for healthcare professionals, including clinicians, pharmacists and medical students.
Evidence
Based
Clinical research and guidelines are based on the latest evidence-based research.
Earn
CME Points
Earn credits while searching for answers to your clinical questions.
Access
Anywhere
The right information, whenever and wherever you need it.
Testimonials
What are others saying?
"BMJ Best Practice Comorbidities allows clinicians to look at the key focal diagnosis and see how to consider the other impacting chronic conditions. This is why it's important to promote BMJ Best Practice Comorbidities to Residents and Advanced Nurse Practitioners."
Tim Mossad
Consultant in Emergency Medicine
"BMJ Best Practice Comorbidities provides a logical approach to an area that could become hugely complex.
When I chose a single comorbidity, the information was relevant, useful, and pragmatic."
Dr Colin Mitchell
Consultant Geriatrician and Head of Specialty
"The tools and content provided on the [BMJ Best Practice] platform are reliable and easy to navigate for the end user."
– The Charleston Advisor, January 2021
Jamie Saragossi
Health Sciences Library, Stony Brook University, New York
"Provides easily accessible evidence based management plan that facilitates more confident and precise decision making"
Tracian James-Goulbourne
Resident Physician, SUNY Downstate Medical Center
"Helps find the right answer quickly rather than having to appraise and synthesize information from multiple sources. Point form layout, makes it easier to navigate."
Ani Orchanian-Cheff
Information Specialist, University Health Network