Treat the whole patient
Now, more than ever, clinical teams need to adopt an integrated approach to patient care. This means recognising a patient's comorbidities – and how they interact. Simple to say, but how do we put this principle into practice?
Well, help is at hand. Our Comorbidities Manager is integrated into BMJ Best Practice, the clinical decision support tool that helps professionals treat the whole patient. In fact, it is the only such clinical decision support tool available.
Explore Comorbidities Topics
In the acute hospital setting, healthcare professionals need fast access to the latest clinical information. And that's exactly what BMJ Best Practice and its Comorbidities Manager provides.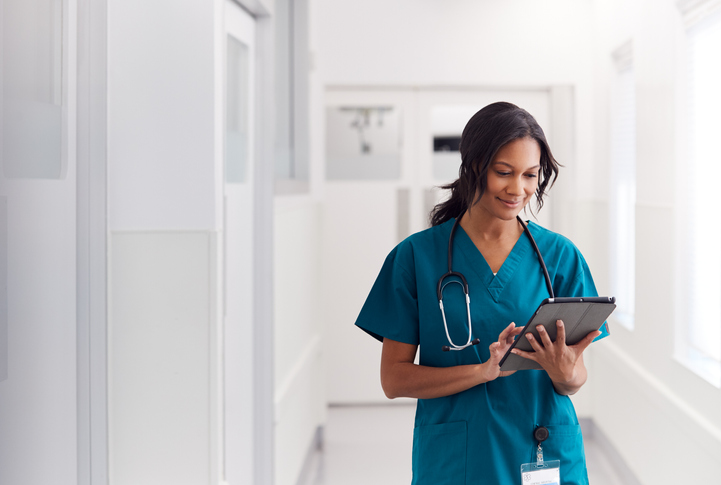 Over 38,325 guideline combinations
×
Explore over 38,325 guideline combinations.
The Comorbidities Manager has been integrated with over 75 BMJ Best Practice topics. These include:
Acute appendicitis in adults
Acute asthma exacerbation in adults
Acute cervical spine trauma in adults
Acute cholangitis
Acute cholecystitis
Acute exacerbation of COPD
Acute heart failure
Acute kidney injury
Acute pancreatitis
Acute pyelonephritis
Alcohol withdrawal
Anaphylaxis
Bacterial meningitis in adults
Carbon monoxide poisoning
Cellulitis and erysipelas
Cholelithiasis (gallstones)
Community-acquired pneumonia
Coronavirus disease 2019 (COVID-19)
Diabetic ketoacidosis
Epistaxis
Heat stroke in adults
Hip fracture
Hospital-acquired pneumonia
Hyperosmolar hyperglycaemic state
Ischaemic stroke
Large bowel obstruction
Mild traumatic brain injury
Nephrolithiasis
New-onset atrial fibrillation
Non-ST-elevation myocardial infarction
Osteomyelitis
Paracetamol overdose in adults
Peptic ulcer disease
Pneumothorax
Pulmonary embolism
Salicylate poisoning
Schizophrenia
Sepsis in adults
Septic arthritis
Shock
Skull fractures
Small bowel obstruction
ST-elevation myocardial infarction
Status epilepticus
Stroke due to spontaneous intracerebral haemorrhage
Subarachnoid haemorrhage
Transient ischaemic attack
Unstable angina
Urinary tract infections in women
Viral gastroenteritis in adults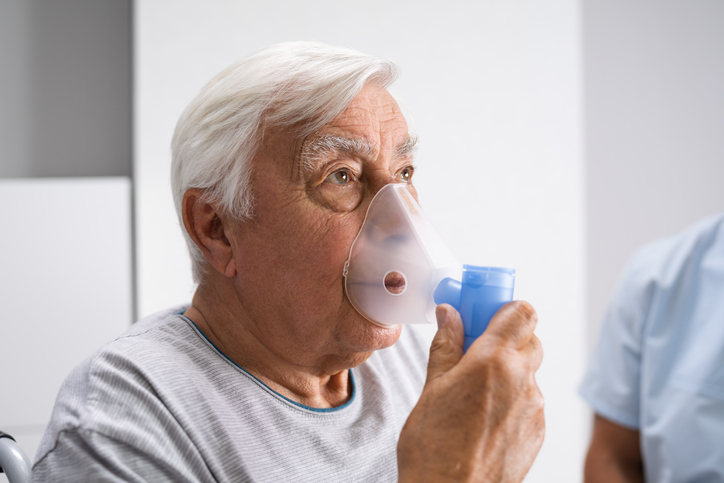 Free: Acute Exacerbation of COPD topic
×
Chronic obstructive pulmonary disease (COPD) is a long-term condition that affects a patient's lungs.
It causes the airways to become narrow, trapping air in the chest and making it difficult to exhale.
An acute exacerbation of COPD (AECOPD) is a type of clinical diagnosis that occurs when patients with COPD experience a sustained increase in dyspnea, sputum production, and or cough. It is important to note that comorbidities have a significant impact on the treatment considerations for AECOPD.
Free: COVID-19 topic
×
The COVID-19 pandemic has made the impact of comorbidities clear to everyone.
Patients with COVID-19 and pre-existing illnesses are much more likely to become seriously ill and require hospitalisation.
A meta-analysis by Espinosa and colleagues found that 42% of patients with COVID-19 had comorbidities; 61% of those admitted to the Intensive Care Unit had comorbidities; and 77% of those who died had comorbidities. (1)
To support clinical decision-making during the coronavirus pandemic, we have made Comorbidities Manager on COVID-19 freely available.
Espinosa OA, Zanetti ADS, Antunes EF, Longhi FG, Matos TA, Battaglini PF. Prevalence of comorbidities in patients and mortality cases affected by SARS-CoV2: a systematic review and meta-analysis. Rev Inst Med Trop Sao Paulo. 2020;62:e43. Published 2020 Jun 22. doi:10.1590/S1678-9946202062043
1in3
adults suffer from multiple chronic conditions.
97%
of healthcare professionals would consider using the Manager to improve the care that they give in the future.
77%
of healthcare professionals said the guidance from the Manager changed the care they give to patients.
Watch the Comorbidities Manager in action
An 82-year-old man comes to the ER with an acute exacerbation of COPD. See how the Comorbidities Manager prompts the clinician to consider his Type 2 Diabetes alongside his acute condition. The result is a tailored treatment plan based on evidence and expert opinion.
Access anywhere
Treating patients with multiple chronic conditions is complicated. It is a balancing act, requiring careful consideration of the acute illness that might have precipitated a patient's hospital admission and their pre-existing conditions.
That is why we have made it as simple as possible to access the Comorbidities Manager. Available on website and offline-capable mobile app, the latest clinical information is available 24-7 whenever and wherever you need it.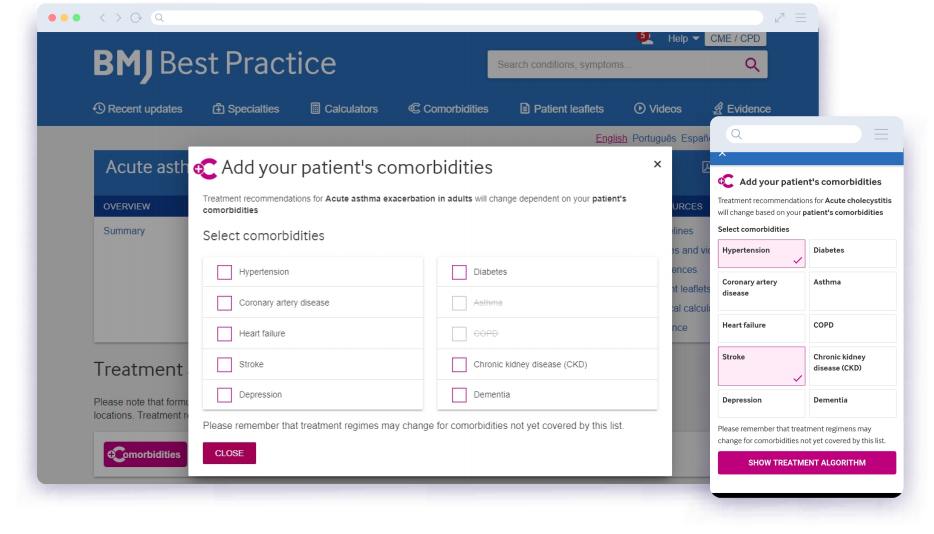 Ranked one of the best clinical decision support tools for health professionals worldwide.*
Written by leading specialists, BMJ Best Practice takes you quickly and accurately to the latest evidence-based information, whenever and wherever you need it.
Where evidence is scarce and guidance therefore hard to supply, we have assembled a leading team of experts to draw on their experience in their fields.
We support you in implementing good practice.
Evidence
Based
Regularly updated, BMJ Best Practice draws on the latest evidence-based research.
Earn
CME Points
Earn credits while searching for answers to your clinical questions.
Access
Anywhere
The right information, whenever and wherever you need it.
Testimonials
Don't just take our word for it. Listen to your fellow professionals. 
"I'd like to see BMJ Best Practice Comorbidities usage ingrained into our practice, both as a learning resource and as a practical resource for checking and verifying decisions made on the ward."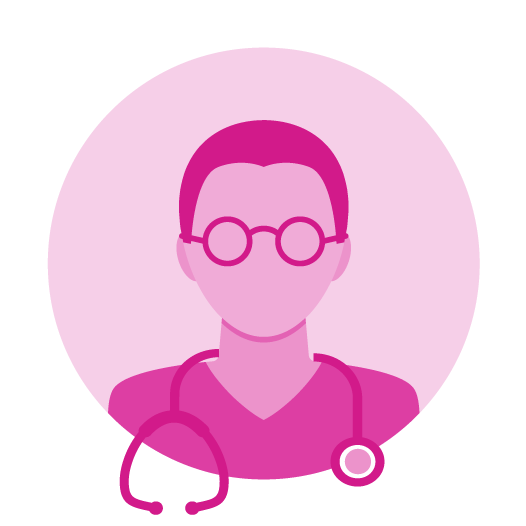 Dr Tim Mossad
Consultant in Emergency Medicine, Chesterfield Royal Hospital,
"BMJ Best Practice Comorbidities provides a logical approach to an area that could become hugely complex. When I chose a single comorbidity, the information was relevant, useful, and pragmatic."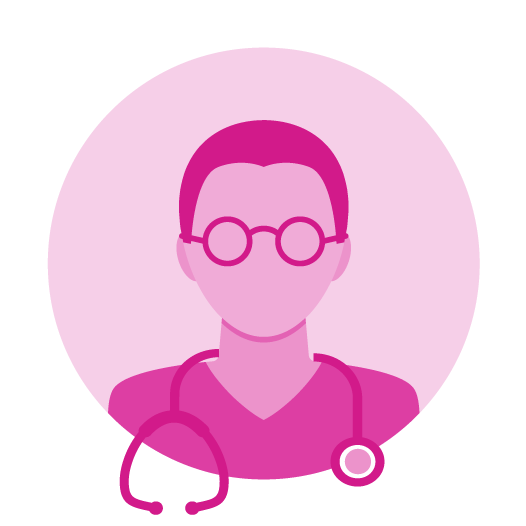 Dr Colin Mitchell
Consultant Geriatrician and Head of Specialty
"BMJ Best Practice Comorbidities is an immensely helpful resource in helping medical students and junior doctors to understand the complexities of medicine."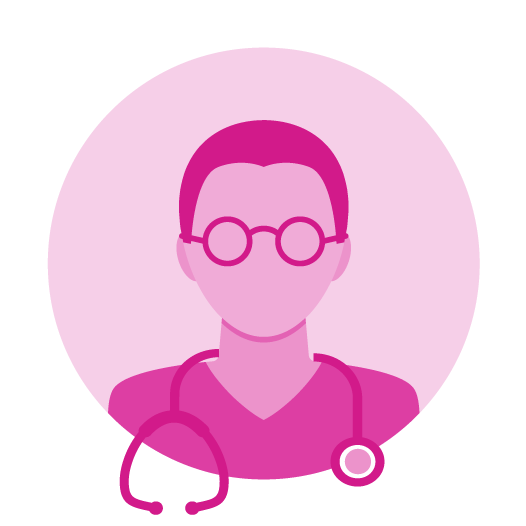 Dr Duncan Forsyth
Geriatrician, Cambridge University Hospital
"When faced with the complexity of a clinical case, I see many students focus on the acute reason for a patient's admittance to hospital, rather than considering the patient's pre-existing conditions. But, it's this integration of knowledge that appears to make the biggest difference between the most and least effective doctors".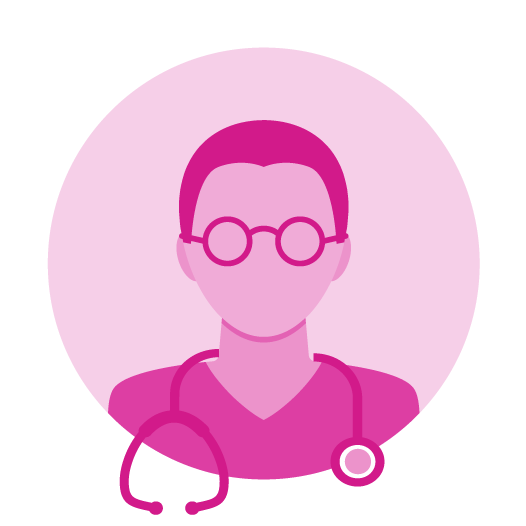 Prof. John Sandars
Professor of Medical Education at Edge Hill University