November 18, 2020
Relationship-centred shared decision making to support the use of BMJ Best Practice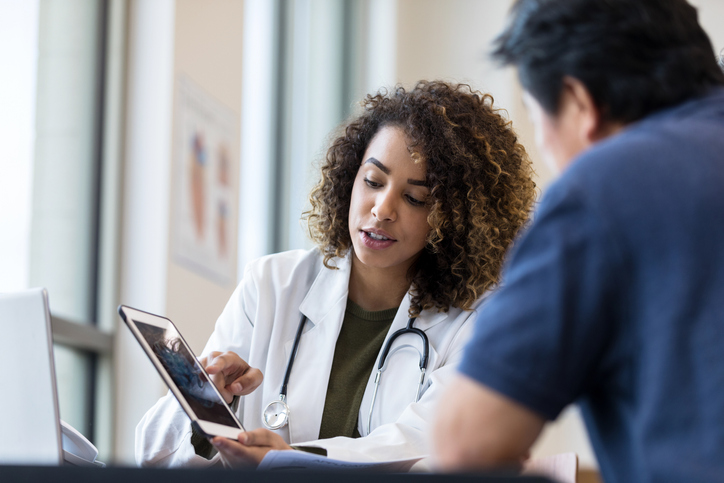 Chris Essen, Service User & Carer Involvement Development Lead, School of Human and Health Sciences, University of Huddersfield 
Healthcare professionals using BMJ Best Practice – the clinical decision support tool of the BMJ - have reported improvements to their "history taking, diagnosis, differential diagnosis, investigation, management and referral" as a result of using the tool (1). This gives me some confidence that it is an appropriate adjunct to continuous professional development. And that doctors and other professionals having access to such evidence-based decision support will lead to better patient care.
Yet, consistent with the view that evidence-based medicine ought not become a 'cookbook' approach to patient care (2), I also believe it important to reemphasise that in most cases decision-making resources should be used to enhance a process of shared decision-making with patients, service users and/or carers.
Debates have rumbled on as to whether decision-making tools might lead to a reductive medical framing of patient-centeredness, where the weight of science behind evidence-based medicine tends towards a certain type of solution or pulls decisions strongly towards an outcome that is only assumed to be the most positive, ignoring the heterogenous lived contexts and preferences of patients (3, 4). Meanwhile, a recent systematic review has found only limited degrees of impact in relation to current training in shared decision making (5). Naturally, as somebody with responsibility for developing patient, service user and carer involvement in professional education, I would like to suggest that involvement is a key ingredient to getting this particular recipe right.
In the UK, General Medical Council standards mandate that undergraduate medical school curricula must provide opportunities for students "to gain knowledge and understanding of the needs of patients from diverse social, cultural and ethnic backgrounds, with a range of illnesses or conditions and with protected characteristics" (6). Yet it has been noted that there are no standard evidence-based approaches to involving the public, along with sharply contrasting levels of institutional investment in the resources required to do so (7). While harnessing and valuing direct experience of an illness is integral to developing involvement in education, I have also noticed that institutional knowledge hegemonies can appear threatened. It is not necessarily the source of knowledge promoted which could prove controversial, but rather the measures that are (or are not) in place to control the circumstances and content of its expression, along with the overall value given to anecdotal accounts relative to evidence-based medicine, for instance.
I sometimes wonder if there is another framing of patient-centeredness getting in the way of successfully seeding inclusive decision-making practice within the education of healthcare professionals. Involvement enthusiasts such as my myself have perhaps been guilty of making an imprecisely articulated claim about the role of subjective knowledge, through our use of expressions such as "experts by experience" and by referring to "experiential knowledge". The origins of the former appear to have been lost, as far as I can tell, but I suspect it may relate to the NHS Expert Patient Programme. A frequently cited source in the 1970s defines experiential knowledge as "truth based on personal experience" (8): the subjective certainty Borkman observed when peer support group members accessed their personal experiences while addressing the immediate similar needs of another. She identified this as a form of truth that was somehow cognitively different from the supposedly objective and apparently more cogent "truth acquired by discursive reasoning, observation, or reflection on information provided by others" that she said constituted professional knowledge (8). This she saw as emanating from bounded fields of academic theory, in turn rooted in the longer-term generation and accumulation of relevant scientific research data.
Over 40 years later Borkman's idea seems to be a somewhat limited account of what is distinctive about both professional and experiential forms of knowledge. Yet health professional education is perhaps still to a significant extent framed by the enduring dualism she carried forth, which clearly distinguishes between that which is implicitly known by embodied actors and that which is reflected upon, or deliberatively contrived, by appropriately disciplined enquiring minds.
We still encounter, for example, the anomalous necessity among some to police an imaginary boundary between the two, evident in their anxiety around what constitutes a 'real' patient when somebody is educated about their condition (9). This tension is sometimes diffused with the reversal of pointing out that we are all patients, as if "diverse social, cultural and ethnic backgrounds" (6) lack relevance.
In my view, use of BMJ Best Practice within the context of shared decision making requires a move away from the medical reductionism and above atomisation of 'patient perspectives' inherent in patient-centredness, towards a scientifically informed but reflective approach to relationship-centred care (10, 11). This recognises that "medicine is an interpersonal process in which a central health-enabling component is the nature of the relationship" (11), exemplified by a diversity of patient mentors working in partnerships with students to jointly reflect upon their practice decisions (12) and develop competencies in metacognition, self-disclosure and emotional intelligence (13). BMJ Best Practice should give answers quickly and this time efficiency should in turn give healthcare professionals more time to reflect and act upon these issues.
References
1. Walsh K. The perspective of physicians on the value of online clinical decision support. Proc (Bayl Univ Med Cent). 2019;32(1):58-60.
2. Sackett DL, William MCR, Gray JAM, Haynes RB, Richardson WS. Evidence Based Medicine: What It Is And What It Isn't: It's About Integrating Individual Clinical Expertise And The Best External Evidence. BMJ: British Medical Journal. 1996;312(7023):71-2.
3. Greenhalgh T, Snow R, Ryan S, Rees S, Salisbury H. Six 'biases' against patients and carers in evidence-based medicine. BMC Medicine. 2015;13(1):200.
4. Wyer P, Alves da Silva S. 'All the King's horses …': the problematical fate of born-again evidence-based medicine: commentary on Greenhalgh, T., Snow, R., Ryan, S., Rees, S., and Salisbury, H. (2015) six 'biases' against patients and carers in evidence-based medicine. BioMed Central Medicine, 13:200. Journal of Evaluation in Clinical Practice. 2015;21(6):E1-E10.
5. Singh Ospina N, Toloza FJK, Barrera F, Bylund CL, Erwin PJ, Montori V. Educational programs to teach shared decision making to medical trainees: A systematic review. Patient Education and Counseling. 2020;103(6):1082-94.
6. General Medical Council. Promoting excellence: standards for medical education and training Manchester: GMC; 2015.
7. Towle A, Farrell C, Gaines ME, Godolphin W, John G, Kline C, et al. The patient's voice in health and social care professional education: The vancouver statement. International Journal of Health Governance. 2016;21(1):18-25.
8. Borkman T. Experiential Knowledge: A New Concept for the Analysis of Self-Help Groups. Social Service Review. 1976;50(3).
9. Snow R. What makes a real patient? BMJ Blogs. 2016.
10. Wyer PC, Alves Silva S, Post SG, Quinlan P. Relationship-centred care: antidote, guidepost or blind alley? The epistemology of 21st century health care. Journal of Evaluation in Clinical Practice. 2014;20(6):881-9.
11. Soklaridis S, Ravitz P, Adler Nevo G, Lieff S. Relationship-centred care in health: A 20-year scoping review. Patient experience journal. 2016;3(1):130-45.
12. Towle A, Brown H, Hofley C, Kerston RP, Lyons H, Walsh C. The expert patient as teacher: an interprofessional Health Mentors programme. The Clinical Teacher. 2014;11(4):301-6.
13. Hargreaves K. Reflection in Medical Education. Journal of University Teaching & Learning Practice. 2016;13(2):1-19.
Competing interests
I have no competing interests in relation to this article.