January 20, 2021
Leadership in clinical decision support: improving access at the point of care
In their poster, presented at the Leaders in Healthcare Conference 2020, Dr Kieran Walsh and Elin Goodwin discuss how BMJ Best Practice has achieved digital leadership in online clinical decision support.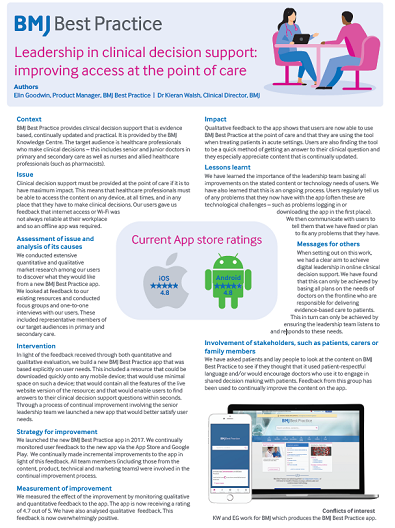 Clinical decision support must be provided at the point of care if it is to have maximum impact. This means that healthcare professionals must be able to access the content on any device, at all times, and in any place that they have to make clinical decisions.
In light of the feedback received through both extensive quantitative and qualitative evaluation, BMJ Best Practice built a new app that was based explicitly on user needs.
The app is now the highest rated clinical decision support app for healthcare professionals with a 4.8/5 rating in Apple and Google Play stores.
Download the poster below to find out more about the app, and our strategy for improving digital health.
"One of the best applications I've used. It's easy to use and up to date. Every time I use it, I love it more and more. It's very useful at all levels of the medical team. Amazing, practical, and easy to use."
Google Play review Sept 2020