January 20, 2021
What will 2021 deliver for digital inclusion in health?
Authors:
Dr Emma Stone, Director of Design, Research and Communications, Good Things Foundation
Dr Kieran Walsh, Clinical Director, BMJ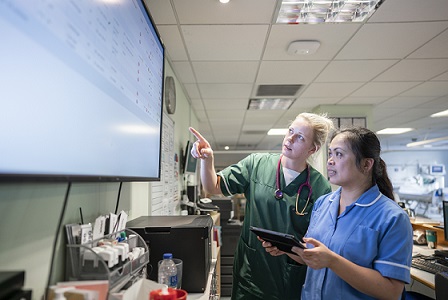 2020 was a watershed year for digital and health. Digital technology has been at the heart of our local, national, and global response to COVID-19. Notwithstanding the failures and frustrations, digital has been essential in enabling us to stay safe, informed, connected, and still able to access essential services. Many of us - patients, carers, and clinicians - have benefited. Benefits range from 24/7 online health information to video calls in care homes or with GPs. 1 In March 2020 alone, online consultations doubled from around 900,000 to over 1.8 million. 2
But COVID-19 also exposed the scale, depth, and significance of digital exclusion in the UK. Digital exclusion can place barriers to accessing healthcare information for those who are most disadvantaged. This in turn can widen health inequalities. An estimated 9 million adults in the UK struggle to access the internet independently; millions more lack the level of digital access, skills, and confidence needed for everyday life in the UK. 3
There are significant gaps in data on the links between digital inequalities and health outcomes. 4 But there is also a lot we already know about practical ways to mitigate the risks of widening inequalities. In particular, the importance of co-design and shared decision-making.
In 'Digital Inclusion in Health and Care', we share the lessons learned from a 3-year pathfinder programme on Widening Digital Participation in Health and Care. NHS Digital and Good Things Foundation (a leading UK digital inclusion charity) supported over 20 locally-led collaborative pathfinders across health and community sectors. Some tested how to design more inclusive digital pathways; others explored how community 'hubs' can help people develop their 'digital health literacy' - to use digital tools for health, safely and confidently. 5
The report's recommendations and practical insights could not be more timely, as policy-makers, commissioners and providers continue to reconfigure the relationships between digital technology, population health, care pathways, and clinical decision-making. 6
BMJ is also keen to improve digital inclusion in health and to ensure that our resources help healthcare professionals and patients improve healthcare quality. One of our most relevant resources in this regard is BMJ Best Practice. BMJ Best Practice is a clinical decision support tool that contains content that is evidence-based, continually updated, and actionable, and practical. It is aimed at healthcare professionals but has been reviewed by patients, carers, and patient advocates to ensure that it uses language that will encourage healthcare professionals to empower patients. One means of such empowerment is to provide patients with healthcare information. BMJ Best Practice provides patient information leaflets and has done a great deal of work to ensure that these are fit for purpose. This means ensuring that the language used is appropriate for the target audience. It also means ensuring that the content for patients is just as evidence-based and current as the content for healthcare professionals. We believe that sharing information with patients is a key step to achieving shared decision making.
References
1 Healthwatch England & National Voices (2020), The Doctor Will Zoom You Now.
2 Health Foundation (2020), Learning from lockdown.
3 Good Things Foundation (2020), Digital Nation 2020.
4 Public Health Wales and The King's Fund (2020), Digital technology and health inequalities.
5 Good Things Foundation (2020), Digital Inclusion in Health and Care.
6 The King's Fund (2020), The Digital Revolution.
Competing interests
KW works for BMJ which produces BMJ Best Practice and patient information leaflets for patients.