Use BMJ Best Practice anytime and anywhere, whether you're on or offline
The right information, whenever and wherever you need it.
Whether you're on the hospital floor, at home, or studying, BMJ Best Practice gives you trusted decision support information in an instant.
Information can be accessed quickly online via our mobile responsive website, or offline with the award-winning app. There is also the ability to download PDF's.
Online and offline access is available to everyone as part of your standard institutional subscription.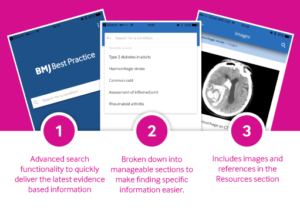 Features
Offline access to over 1,000 conditions
Nearly 200 interactive medical calculators
Important Updates clearly flagged where there has been a significant change in evidence
Integrated links to Cochrane Clinical Answers
Improved treatment algorithms and differentials tables
Links to International and other guideline producers
Broken down into manageable sections, including prevention, diagnosis, and management
Browse bar for quick access to Important Updates, specialties, calculators and more
Images and procedural videos included for relevant conditions.


Access instructions
The BMJ Best Practice app is available as part of a subscription to BMJ Best Practice. It is not available for sale separately.
When accessing BMJ Best Practice from within your institution's wifi, you will be prompted to set up a 'personal account'. If you're off-campus/outside of the institutional IP range, be sure to access Best Practice via your institution's referral URL or library portal. You will need the account login details you created to download the app for free on the App or Google Play stores.
Requirements
iOS 11 and above (iPhone 5S+ family, to iPhone X, iPad & mini family)
Android 4.2
Must be connected to wi-fi for the original download
Up to 280 MB of memory.