BMJ Best Practice Comorbidities Manager
One in three adults suffer from multiple chronic conditions. When a patient is presented to you with an acute condition, do you always have the relevant information available to treat their pre-existing comorbidities also?
BMJ Best Practice Comorbidities is the only point of care tool that can help you confidently treat the whole patient. We'll prompt you to consider the patient's comorbidities when accessing treatment information and quickly provide you with an initial management plan that is tailored to the unique needs of the patient.
Try it today with these free topics: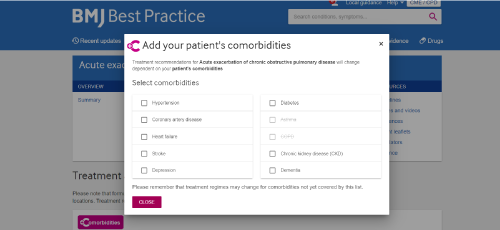 What about other conditions with comorbidities?
Covering a range of conditions including diabetes, asthma, depression, and more, the Comorbidities Manager is available for purchase by your institution.
If you need any support, please visit support.bmj.com.