Evidence Matters
BMJ has been championing EBM since David Sackett in his famous 1996 editorial (Evidence based medicine: what it is and what it isn't) set out the tenets of the movement - as an approach that "integrates the best external evidence with individual clinical expertise and patients' choice".
Since 1999 BMJ has employed a core Evidence team, with skills and expertise in conducting systematic reviews, overviews, and health technology appraisals.  BMJ is also a founding member of the UK GRADE Network, with staff who sat on the steering committees of the Evidence-based Research Network, and the annual international conference on evidence based healthcare, Evidence Live. Today our team of in-house information specialists systematically search the literature on a weekly basis for high quality new and updated international guidelines, systematic reviews and potentially practice-changing randomised controlled trials, as well as tailoring bespoke searches to support updating our content.  
The BMJ Knowledge centre team has conducted extensive research with healthcare professionals around the world to understand how you use evidence to support your work.  You told us you want a single source of evidence-based answers to critical real-world clinical questions, delivered quickly and succinctly at the point-of-care, with easy access to guideline summaries and practice-changing evidence.  This is exactly what we deliver.
BMJ Best Practice - practice-changing evidence at the point of care
BMJ Best Practice supports all three components of EBM:  best available evidence in the form of key primary and secondary studies and guidelines; clinical expertise via our >1,600 working clinical authors and editors from 29 countries; and patient values and preferences with >400 patient leaflets, accredited by the Information Standard and reviewed by our patient panel, to support shared decision making.
Extensive customer research shows that users value highly the rapid delivery of practice-changing evidence that BMJ Best Practice offers at the point of care. Evidence is evaluated daily and quickly incorporated into BMJ Best Practice content. Updates are prioritised as follows:
- Drug changes or withdrawals that may affect patient safety
- Evidence that changes practice
- Evidence that confirms current practice
Our in-house evidence and editorial teams collaborate with over 1,600 international expert contributors and over 2,500 peer reviewers, to ensure that BMJ Best Practice provides access to the best available information possible, in line with our robust evidence processes that include:
Systematic weekly searches  for high quality new and updated international guidelines, systematic reviews and potentially practice-changing RCTs
Continuous scanning and triaging of drug alerts by our inhouse pharmacists
Prompt evaluation of new evidence by our specialist section editors
Daily monitoring and triaging of user/customer feedback by our specialist section  editors
External peer review of all new topics by at least two leading international experts and practising clinicians
Internal peer review and sign-off for all content by our in-house pharmacists and senior content editors
Drug surveillance
Our in-house pharmacists review drug alerts released by international drug regulatory agencies on a daily basis. This includes the Food and Drug Administration, European Medicines Agency, and the UK-based Medicines and Healthcare products Regulatory Agency, as well as other useful secondary sources. Important practice-changing alerts (e.g., drug withdrawals, drug dose updates, new contraindications) are incorporated into relevant content within 48 hours, and all other alerts (e.g., new drug approvals) are assessed for inclusion in content within one to three months depending on their importance and how they affect clinical practice. All drug doses in BMJ Best Practice are reviewed and approved by qualified, UK-registered pharmacists with extensive experience in US pharmacy practice.
Evidence into practice
Further customer research has helped us to shape the way that we surface evidence in BMJ Best Practice to make it more actionable at the point of care. Key enhancements include:
Unique visual reminders and embedded evidence features for quick access to important new research and guideline updates

Unique expanded systematic review layer giving you the confidence and context to make decisions in areas of uncertainty
Unique visual reminders and embedded evidence features for easy access to important new research and guideline updates
Practice-changing important updates in evidence, displayed on the topic front page: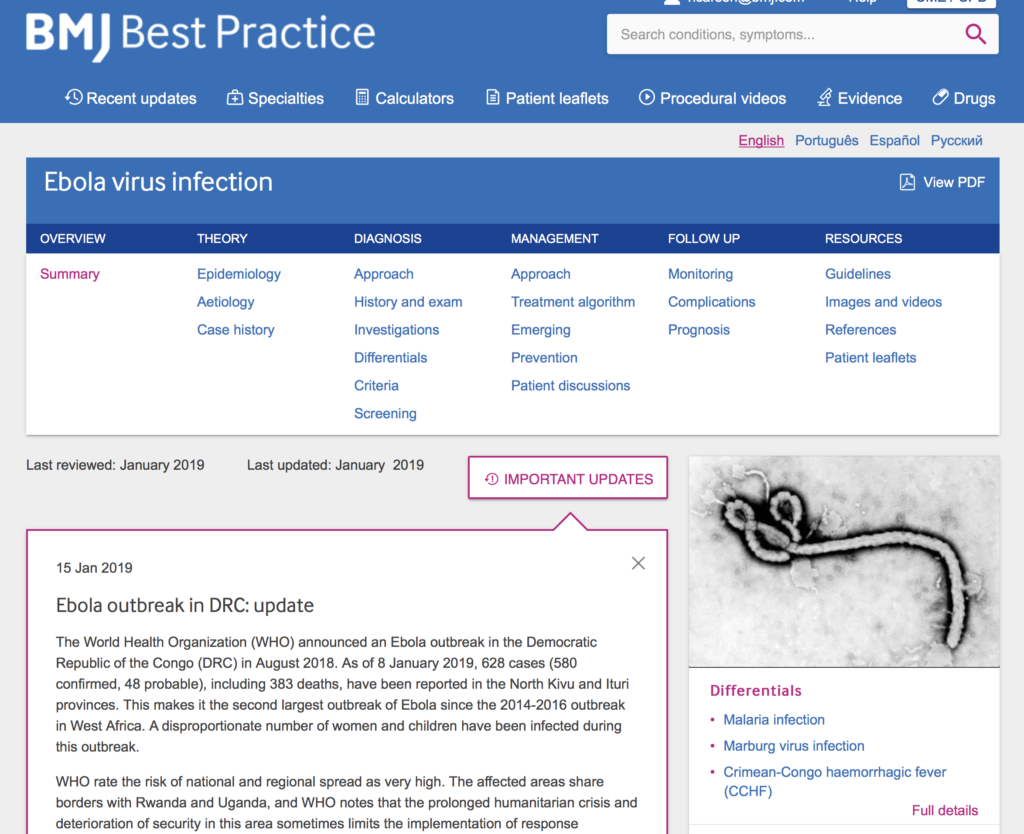 When clicked, a popup box appears for easy access to more detailed information and link to the relevant piece of research or guideline summary to enable them to see quickly see what has changed. Users can click through for full guideline information: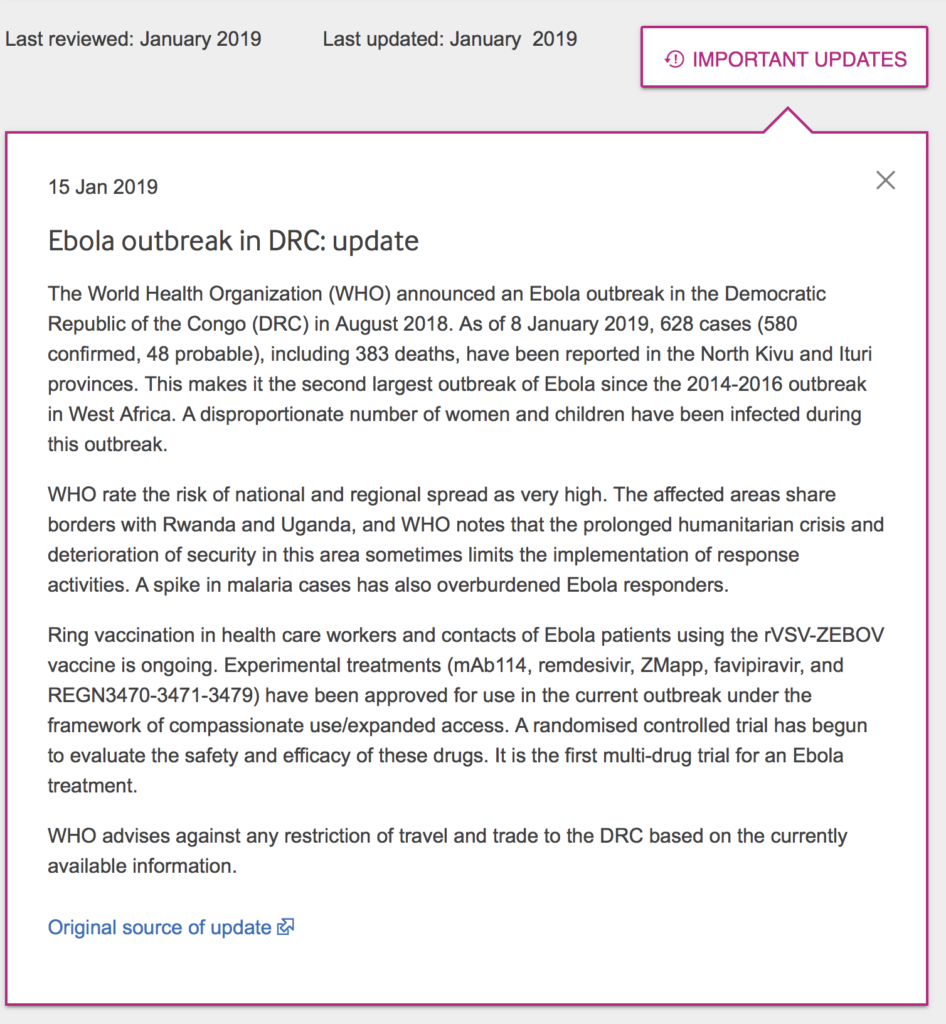 In addition, comprehensive reference and guideline information is still easily accessible in BMJ Best Practice:
>65,000 references embedded in text as popups (incl links to Pubmed abstract/free-access full text) and in separate reference list for each topic (with key references selected by author)

>6,500 high-quality guidelines in dedicated guidelines pages with links to full text and marked up when new or updated.
Altogether these features make it easy and intuitive to access the evidence base for an intervention and assess how reliable it is, informing discussions about different treatment options with patients, colleagues and co-learners.
 Expanded systematic review layer:

High-quality systematic review content

has been incorporated

into BMJ Best Practice

.
BMJ Best Practice has teamed up with Cochrane Clinical Answers to better deliver evidence and inform decision making at the point of care.
The collaboration means that Cochrane Clinical Answers are incorporated into BMJ Best Practice topics to give health professionals instant access to the highest-quality evidence for use in their daily practice.
Cochrane Clinical Answers (CCAs) provide a readable, digestible, clinically focused entry point to rigorous research from Cochrane systematic reviews. They are designed to be actionable and to inform decision making at the point of care. Each Cochrane Clinical Answer contains a clinical question, a short answer, and an opportunity to 'drill down' to the evidence from relevant Cochrane reviews. The evidence is displayed in a user friendly format, mixing narrative, numbers and graphics. The answer is short (less than 200 words ideally) and is an overarching answer for all the clinically relevant comparisons. If possible, the Cochrane Clinical Answer will quantify the effect size of the intervention in regard to the outcomes, including the absolute effects and confidence intervals. The answers also include statements reflecting the strength and quality of the evidence. The answer aims to put the question into clinical context, and states if there is insufficient evidence to make a judgment about the intervention to draw conclusions. In these cases, the answer focuses on the rationale behind conducting the review. Each clinical question is formulated so that it can be answered using the 'PICO' framework; all answers provide detail about the Population, Intervention, Comparison, and Outcomes.
Systematic reviews are the cornerstones of evidence based medicine. They bring together evidence from existing research to help answer important clinical questions, identify harms, and inform clinical guidelines, practice and policies worldwide.
Without them, decision makers, students and researchers would be at the mercy of often conflicting studies or expert opinion. Systematic reviews evaluate the knowledge base for different outcomes including harms, and highlight where new research is needed. Providing easy access to such high-quality reviews is one of the key priorities of BMJ Best Practice.
BMJ Best Practice already has a strong evidence base, but by incorporating Cochrane Clinical Answers, it will give health professionals the confidence to make the best decisions in partnership with patients, even in areas of clinical uncertainty.
Systematic Review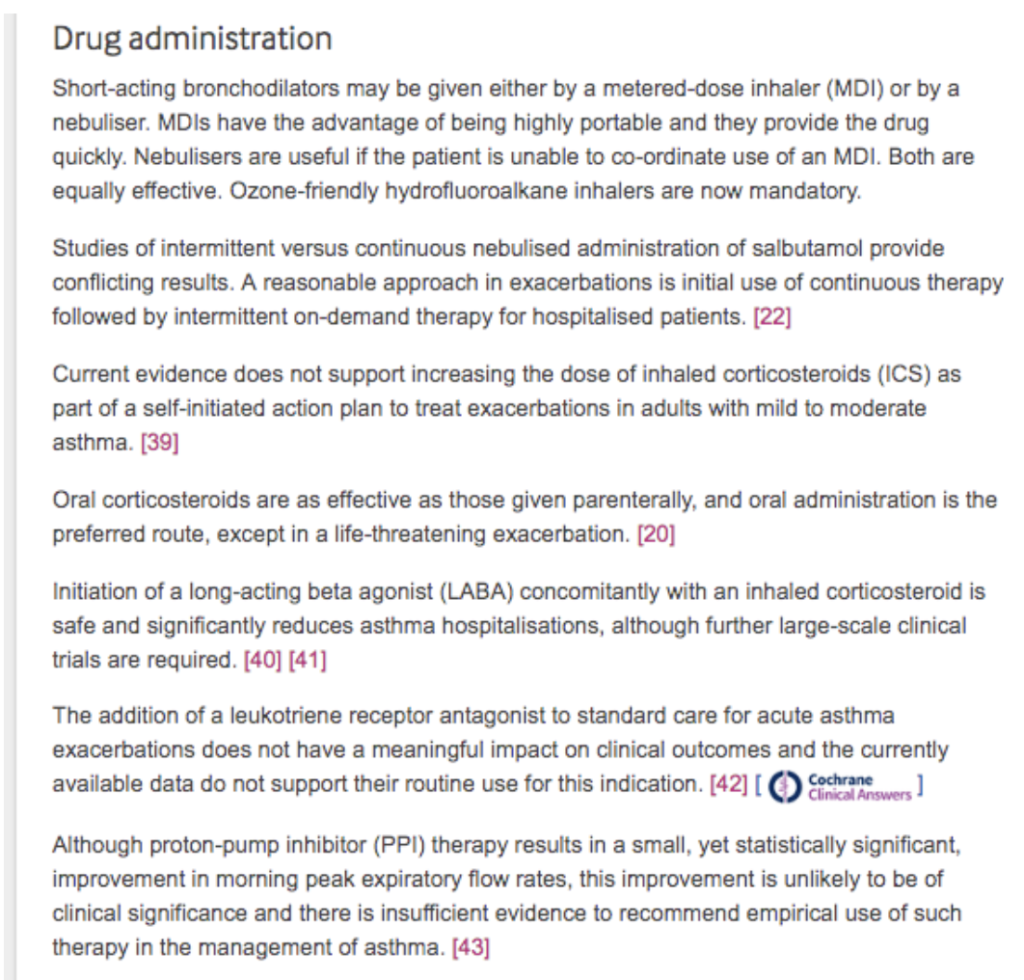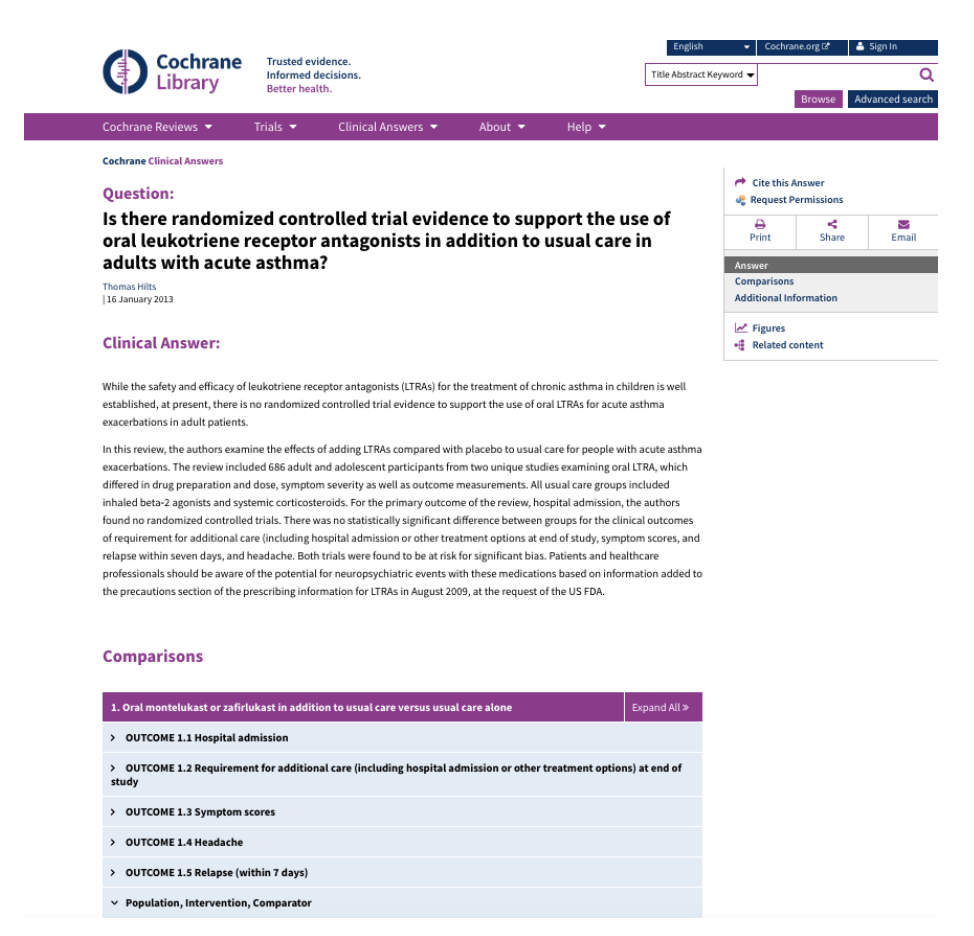 EBM Toolkit
BMJ Best Practice includes an EBM Toolkit for people who want to learn more about the principles of EBM. The toolkit brings together information and tools to learn, practise and discuss EBM.